Starbucks chalkboard art: Featuring Denver and Seattle
Melody, March 7, 2013
12
2 min

read
DENVER:
A reader in Denver sent me a few recent photos of the chalk art at his Starbucks.  I love it.  And partly, I have to admit I especially enjoyed the series of photos as I have actually visited this particular Clover Starbucks in Denver.  I really had a wonderful time visiting Starbucks stores in Denver, and meeting partners in that market.  So, it does tickle me pink to show off a little of their chalkboard art:
That Starbucks is actually attached to an REI store, and is in a huge, rustic space.
Hope you enjoyed the art!  (I especially like the "Vanilla" chalkboard.)
SEATTLE:
March 1st through the 3rd was the "Emerald City Comicon" which is held in downtown Seattle.  During that weekend, I saw some absurdly packed Starbucks.  Long lines.  And two stores near me had special chalkboards to welcome the many visitors in town for Comicon.
On March 2, 2013, I dropped by the Pacific Place Starbucks and noticed this great chalkboard!  I snapped this photo with my phone: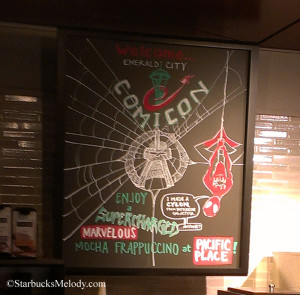 I went back to that same Starbucks the next day, in hopes of getting a better quality photo.  I brought with me my camera the second time around, though surprisingly, my camera photos don't look any better than my phone pictures.  The second time I was there, a barista named Dan was working.  He recognized me and saw me taking pics of the chalkboard art.  At one point he said to me, "Hey Melody, you didn't get me in the picture!"
In my totally serious tone of voice I said, "Dan, I was trying to NOT get you in the picture!"  He laughed and said he wanted to be in it.  I warned him, "You'll be all over the blog Dan!"  He volunteered to give me a funny pose.  And so here is barista Dan showing off that same chalkboard.  Dan has been a partner for a very long time.  I see him working mornings a lot.  One thing about him, he always looks like he is having fun at Starbucks.
I also dropped by the Starbucks at 7th and Pike on that day.  (The two stores are only a few blocks apart.)  I really wanted to take photos of the customers.  So many were in all kinds of Comicon-inspired costumes!  A couple of the baristas had red capes to go with the weekend's theme.  It was crazy busy.  That afternoon at the 7th and Pike Starbucks was busier than many of their morning rushes.  I did manage to get a photo of their chalkboard too: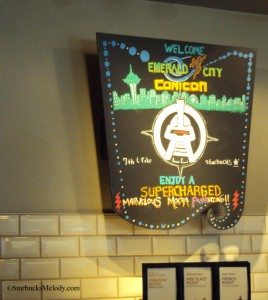 That's it for this episode of chalkboard art.  This is an open thread.  Talk about anything Starbucks-related.  (Thank you Dan for the fun pic!)
Related posts
Socialize

Subscribe
Join the StarbucksMelody.com mailing list to receive a weekly email with new posts.
Recent Comments