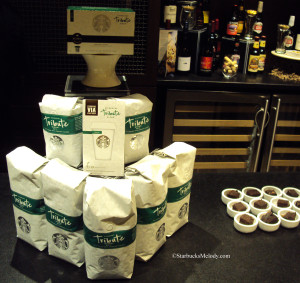 Starbucks Tribute Blend is here!  New this year, customers can now buy Tribute Blend in the K-cup format.  This year's is delicious.  (Yes, I know I am a little late to write about it – it launched March 5th this year.)   I have bought some for home already, and yes, I genuinely like this coffee a lot.   A pour over of it in the morning is fabulous.  Just so you know, Starbucks first launched Tribute Blend on March 8, 2011, in celebration of its 40th anniversary.
Tribute Blend has four coffee components to it: Aged Sumatra, Papua New Guinea, Colombia, and Sun-dried Ethiopia.  The four coffees representing all three growing regions, and are coffees that are iconic to Starbucks.  Aged Sumatra is the key component to Starbucks' well-loved Christmas Blend.  Colombia has been a Starbucks favorite for more than 20 years.  It was spotlighted in the first annual shareholders report (see pages 6 – 7 of the 1992 annual report), and while it's not readily available now in stores, it returns often as an international offering, and a rare promo coffee.  (Starbucks Colombia also can often be found as a grocery store only item.)
On March 11, 2013, I went to a coffee event  at the East Olive Way Starbucks in Seattle.  Coffee masters Josh and Deb made the Tribute Blend with a pour over.  I want to say, we had an engaging conversation as to how brew method affects the flavor of the coffee.  One person at the coffee seminar commented that this year's Tribute Blend seems spicier (Aged Sumatra component) when made in the Clover.  The pour over brew method brought out the berry (Ethiopian) component.
We smelled some of the whole bean of this coffee, and wow, there was tons of cocoa aroma!  We paired the coffee with the cinnamon chocolate bread.  This was good.  I liked this loaf!  This, however, is a coffee that stands on its own two feet, and tastes great with or without food.  And because of the complexity of the coffee, it pairs with many different foods!
Deb and Josh also prepared a pour over of Colombia.  The store got a bag of the whole bean Colombia from a partner who had come back from vacation from Mexico.  Currently, Colombia is offered in a number of international markets as a core coffee.  This was a great experience to compare and contrast the Colombia with the Tribute Blend.  The Colombia was so nutty and wonderful, and having it side by side with Tribute Blend, you tasted more of the nuttiness of the Tribute.
Another thing to notice is the difference between the little peaberry Papua New Guinea beans compared side by side with the other beans in Tribute.  The little peaberry beans are cute!  (A coffee bean normally grows in bean with some similarity to a peanut – it has two halves that split apart.  A peaberry is a smaller coffee bean that grows as one tiny bean, and doesn't have two halves).
Have you tried this year's Tribute Blend? What do you think?
Related posts