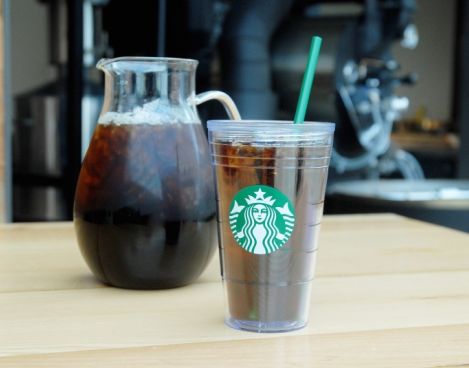 Starbucks Elevates the Iced Coffee Experience: Cold Brew Begins 3-31-2015!
Melody, March 12, 2015
19
2 min

read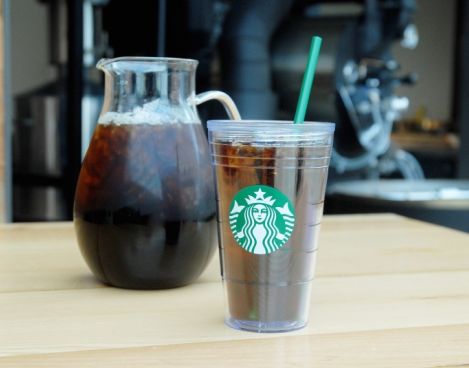 Starbucks will be launching cold brew coffee in about 2,800 stores in the North East, beginning March 31st. You may remember, a little less than one year ago, this was a test item in a small number of Boston stores. Both company-operated and licensed Starbucks will be getting cold brew – the North East region includes Philadelphia, Boston, New York, and surrounding regions.
I got an early sneak peek of Starbucks Cold Brew blend on March 6th, at the corporate headquarters. Thank you to Starbucks for inviting me to a lovely cold brew coffee tasting!  It's delicious! I tried it side by side with the traditional iced coffee. The Starbucks Cold Brew is a Latin American / African blend of beans, developed by Leslie W., at the headquarters. She was there to help answer my questions: I joked that it should be called the Leslie Blend.
The Starbucks Cold Brew is made via a commercial Toddy brew system. Cold brewing coffee is an ambient brew method, meaning that there's no heat involved. For typical cold brewing, a brew time of anywhere from 12 to 24 hours is normal. Starbucks went through 50 different coffee bean recipe blends before settling on their Cold Brew Blend, and then tested it by preparing it over and over again in half hour increments to decide upon the perfect brew time length. Starbucks settled on 20 hours as the perfect brew time for the Starbucks Cold Brew Blend.
Since it takes a long time to prepare the new cold brew iced coffee, it is possible that a store will run out and not easily be able to re-make more. For some stores, this may mean that you'll find cold brew available on early in the day and by afternoon, it's gone. It's likely to be a limited supply item.
I asked if the new Cold Brew Blend will be available in the whole bean lineup. It won't be available in one-pound whole bean packaging, but if customers really want to buy a pound, they should ask their baristas to scoop out a pound from the larger packages of it, which the store receives to make their cold brew.
The new Iced Cold Brew is deliciously sweet, with a little chocolate notes, and a refreshing crisp citrus note to it. It is a medium roast profile coffee, akin to House or Pike Place Roast, in terms of the roast profile. Very little roastiness comes through in the actual coffee, and it's very aromatic!
My only complaint is that this will be a New England /North East regional item and that I won't be able to get it here in Seattle!
Related posts