Seeing Stars at Teavana: The Starbucks-Teavana Card Arrives.
Melody, April 24, 2013
19
2 min

read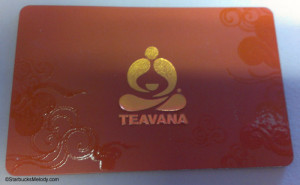 The Starbucks Teavana card is here!  You can find it at Teavana stores everywhere – these cards are brand new!
The MyStarbucksRewards program has become fairly seamless.  It's remarkable.  Beginning May 12th, you can earn Stars for your whole bean coffee purchases at your local grocery store.
You now earn Stars  for all your purchases at all Teavana locations, the four Evolution Fresh stores, the one Tazo Tea store, and of course, all Starbucks locations.  You can register all of these special cards, put money on them, and use them all at Starbucks too.   You can redeem your rewards at any participating Starbucks store.  You can reload any of your Starbucks cards at any of these locations too: Teavana, Tazo, Evolution Fresh, and Starbucks.
When I dropped by Teavana today  (April 23, 2013), Emily was working, and remembered me from my previous visits to Teavana.  (She was already aware that I have a Starbucks blog.) She wasn't surprised that I had come in for the Teavana card, and together we did a number of experiments at the register.  In fact, she was happy to try out her new register functions with me!  She said that she had just put the Teavana cards out yesterday, and thinks that her registers were just updated for them.  I bought a Teavana card for myself, loading $5.00 on it.  Then, I reloaded my Starbucks card, and purchased some tea.  And finally, I paid for my Teavana tea with my Starbucks card.  It all worked perfectly.
In addition, I suspect this means that Teavana is now set up for Starbucks partners to make purchases there with their partner discount, but I don't know for certain.  Lastly, I don't know if there is a La Boulange card.
So what does this mean?
If you're a partner, don't be surprised to see your customers paying with these new Starbucks cards.  And, there are already many card designs out there!  The trickiest one is the Evolution Fresh card – the word Starbucks does not appear anywhere on the Evolution Fresh card.
If you're a customer, you have even more opportunities to earn stars.  This is a good thing. 🙂
Which is your favorite of these special cards?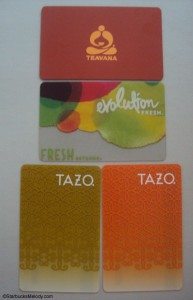 By the way, if you enjoy looking at a variety of Starbucks cards, I highly recommend reading through these previous card articles – scroll through and check out many cards.
Related posts