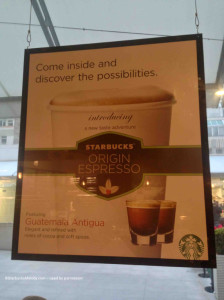 I think it's pretty cool that Starbucks UK and Starbucks Ireland have launched a single-origin espresso option.  The official launch was April 3, 2013.  (If  I have that date wrong, someone let me know.  It's the date mentioned in the official blog post on the launch of origin espresso.)
The Starbucks UK webpage describes the single-origin espresso adventure as beginning with Guatemala Antigua, suggesting that the single-origin espresso coffee offering will rotate occasionally.  Also, the Starbucks UK page has a fun interactive "game" like page which you click through to learn about the Guatemala Antigua growing region:
http://originespresso.starbucks.co.uk/
There is also an official Starbucks UK blog article on it here.
The whole thing is just super cool to me.  I have tried a couple of different Starbucks coffees as espresso shot, and the experience and variety is fun.  A long time ago, when 15th Avenue Starbucks was an "experimental store" (it no longer is experimental), it offered Casi Cielo as espresso shots.  That was fantastic.  And as you may know, Casi Cielo comes from the Guatemala Antigua growing region.
This is not the first time that  Starbucks has experimented with different espresso options: Last year, the Brewery Blocks Starbucks in Portland, Oregon offered Guatemala Antigua as an espresso option.  For about a year now, Starbucks France has offered a blonde roast as an espresso shot option.
I definitely wonder if a single-origin espresso would work in the United States – that's a lot of stores to supply with an origin espresso roast.  Maybe Starbucks could launch Guatemala Antigua espresso as an option for the Clover Reserve stores?
What do you think? I would love to know if you'd order an espresso beverage made with a shot of Guatemala Antigua.  Have you tried this?
Related posts