I picked out three things that I wanted to share with you.  I love taking photos of all things Starbucks-related, and lately I have been featuring a number of photos submitted by readers.  Today, I am featuring a few things that I have picked out for you.
1) Scott's art – Three Region Blend chalkboard:
I am a fan of Scott, a shift supervisor at the Key Tower Starbucks in Seattle.  He is a gifted artist.  On several occasions, I have put a spotlight on the chalkboard that he does for his small Starbucks, in the lobby of an office building.  Take a look at his past chalkboards:
So before it is gone, I wanted to share Scott's Three Region Blend chalkboard:
2) The Shipping Container Starbucks:
I dropped by the Shipping Container Starbucks on Memorial Day, this year.  It was closed for the holiday.  One thing that was nice about it being closed was that it was quiet, and I was the only car around.  It made for a lovely photo – and I realized that the store and the sky were about the same shade of gray!
3) Child-sized Starbucks Green Aprons:
I saw these at the Starbucks Coffee Gear Store, and thought they were pretty cute!  These little aprons would be the beginning of an adorable child's Halloween costume!  Partners can order coffee gear merchandise via the online Coffee Gear Store.  If you are not a Starbucks partner, you can go visit the actual one store at the Starbucks headquarters, which is open to the public.  If you want to see the kinds of things that the Coffee Gear Store offers, click here for past articles.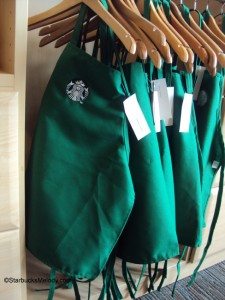 That's it!  This is an open thread!  If you have photos, or story submissions, email me at Melody at StarbucksMelody dot com.  I am sorry but I do not use all story ideas/ photos submitted.
If you are enjoying this blog, please take a minute to "like" the site or subscribe to it.  Thank you!
Related posts