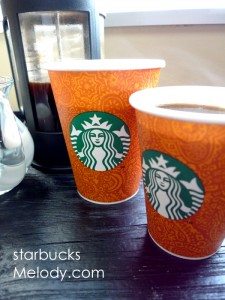 On July 27, 2011, Starbucks Indonesia launched a seasonal Ramadan cup with a beautiful batik-style design.  My understanding is that this is about the fourth year in a row that Starbucks has offered Ramadan cups, and that they're in use in Indonesia and the Middle East.  This year's design is all new. From what I hear, the last previous several years all had the same design.  I apologize that I have no photos of the previous years' designs.
I don't have much to say about these cups, but I did want to share this photo here.  The cups look very elegant to me.  I am charmed by them!  I thought it was possible that most of my readers are unaware that there are Starbucks Ramadan cups, and so I thought you-all would enjoy seeing them.   As far as I know, Ramadan this year begins on August 1, 2011, and ends on August 29, 2011.
What do you think of these cups?  Do you like the Ramadan cups?  Please do tell!
You can see a current Starbucks Indonesia tumbler in this blog post here.
(Photo used by generous permission of Starbucks Indonesia.  Thank you!)
Related posts