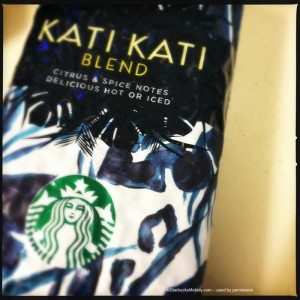 Coming soon, on June 25, 2013, Starbucks will be introducing a new summer coffee into their stores.  It's called Kati Kati Blend, and has "Citrus and Spice" notes.  I haven't had the chance to try it yet – I am sure I will be writing about it again after I have the chance to taste it.  The back of the bag describes it as a blend of Kenyan and Ethiopian coffees, and recommends it either hot or iced.
I like the packaging.  I still miss the coffee packaging of yesteryear which often told stories about the coffee.  Nonetheless, I like the blue and white design on the new Kati Kati coffee.  The word Kati Kati comes from Swahili, which is one of the national languages of Kenya, and it means "between."
Going back to the 1990s, traditionally,  summer coffees are often African coffees because of their natural citrus flavor notes, making for a nice iced coffee.  Some readers might remember that during the 1990s (up until 2010), Starbucks routinely offered Gazebo Blend as a summer season coffee.  Gazebo Blend was the essential summer coffee at Starbucks from 1991 through 2010.
Let me know if you have tried it!
I will be looking forward to this on the 25th!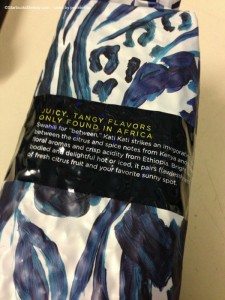 Related posts