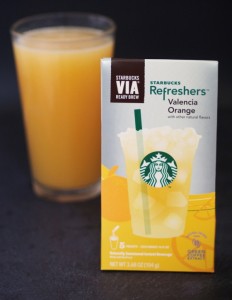 As of June 25th, Starbucks began offering a new Refreshers Via Ready Brew – it is the Valencia Orange Refreshers Via.  There is a handcrafted version of the same in Starbucks stores.  I assume it will be popular!  I am not home in Seattle at the moment, and haven't actually had the chance to try the Via version, but I do like the handcrafted Valencia Orange Refreshers.
For those readers not familiar with "Via Ready Brew,"  those are the little sachets with a powder in them.  You add water at home to make your wonderful Refreshers.  The "handcrafted" Refreshers are those that your baristas make for you at your neighborhood Starbucks stores.
Currently, there are three flavors of the handcrafted Refreshers:  Cool Lime, Very Berry Hibiscus, and Valencia Orange.  You can order any of those three flavors at your neighborhood Starbucks store.  If you want to try these handcrafted beverages, you can buy them for half price June 27 through June 29, from 3:00 p.m to 5:00 p.m.
There are four flavors of the Refreshers Via Ready Brew:  You can find the new Valencia Orange in Starbucks stores.  Also, in Starbucks stores everywhere are the Cool Lime Refreshers and Very Berry Hibiscus Refreshers.  Starbucks also produces a Strawberry Lemonade Refreshers Via Ready Brew, but it is considered a "CPG" ("Consumer Packaged Goods")  item only, meaning that you'll only find it in grocery stores, and not at your local Starbucks.  (The Strawberry Lemonade Refreshers are a bit hard to find.  I'm not sure if it is being phased out, but it is really good.  If you can find it, give it a try!)
The hallmark of all the Refreshers is that they have a green coffee extract in them, meaning that the Refreshers have a little caffeine in them – it's just a little bit more caffeine than if you were ordering an iced black tea at Starbucks.  They are nice cold, refreshing drink for a hot summer day!
Enjoy Refreshers Happy Hour starting tomorrow!  That's June 27th through the 29th, from 3:00 p.m. to 5:00 p.m., at participating Starbucks.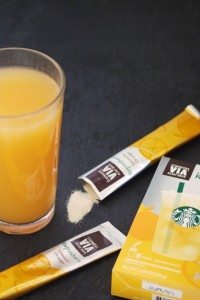 Related posts