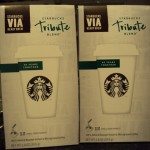 Tribute Blend Via Ready Brew by Starbucks is here and it's flavorful and easy to use.  In fact the great thing about Via is how incredibly convenient it is.  I have to admit that I've become of fan of Via partly because it's so quick and easy.  Tribute Blend combines Aged Sumatra, sun-dried Ethiopian coffee, and Papua New Guinea.  The Aged Sumatra gives it a lot of body, and the sun-dried Ethiopia adds some berry notes to the coffee.  The whole bean version of this coffee has a lot of berry aroma.
But I want to talk about the Via Ready Brew version.  In the Via version of this coffee I pick up more of the Sumatra flavor than any of the other flavors.  The body of the coffee is pretty good considering it's an instant version.  In the whole bean version, I smell a lot more of the berry aroma when the beans have been freshly ground.
If you are going to make Via at home, you've got two big decisions. 😉  (1) Where do I get some hot water? and (2) What mug should I use?
Let's first deal with, 'where will I come up with hot water?'  One option might be your very old tea kettle: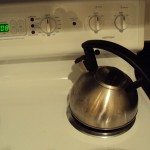 Another option might be your reliable microwave: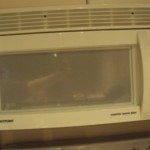 Of course the much more difficult question is, 'which mug do I use?'  When I open up my kitchen cabinets, and I see sight that looks something like this: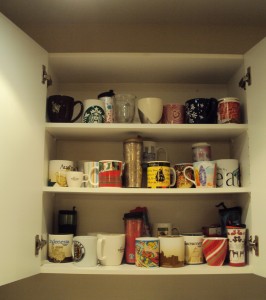 There are way more choices about which mugs to use than which way to make hot water!  This might be a tough choice.  Maybe I should use the Sumatra mug since there are some Sumatra beans inside Tribute Blend: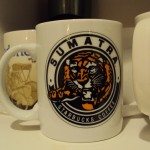 But I'm not sure why but this mug just isn't calling out my name.  Maybe the tiger isn't looking too friendly today.  Next choice might be the Clover mug: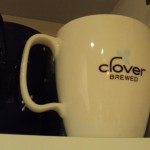 Alas, at 16 ounces, that's just a little too big for making Via.  One packet of Via brews roughly about eight to ten ounces of coffee.  I'll just have to look at more coffee mug choices.  There's this old Seattle coffee mug with the Space Needle on it: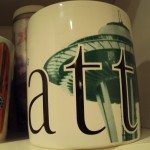 The old 1994 Seattle city mug suffers from the same problem as the Clover coffee mug.  It is too large.  That feels like it is about 18 ounces, though I'm not sure of its exact size.  On to the next choice.  Maybe I should use my very newest mug which is brown with a siren logo on it, or maybe I should just a very ornately designed 1990s era mug?
In the end, I finally decided to use my new logo mug because it is about the right size, and has the beautiful new logo on it just like the little package of Tribute Blend Via!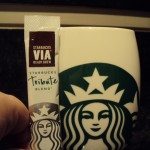 I poured the Via into a cup of hot water: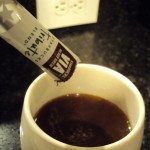 And moments later, I had a great cup of coffee: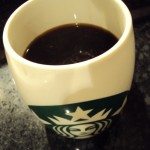 So what do you think of Tribute Blend Via (or whole bean Tribute Blend for that matter)?  I know that I really do enjoy how easy it is to make one single cup of coffee, and I like the flavor of Tribute Blend.  I taste of lots of Sumatra, and you can't go wrong with a cup of Sumatra!
Related posts