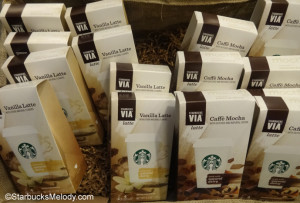 Today is the official launch of the new Caffé Mocha Via Ready Brew and the Vanilla Latte Via Ready Brew.  What's different about these from any past versions is that they're a dairy latte – just add hot water.  For a limited time, you can buy a single-serve sample of one of these for one dollar, and otherwise, these come in boxes of four for $6.95.  As I understand, at some point this month, there will be sampling and comparison taste testing going on.  The Mocha version has about 150 calories per serving, and I assume that the Vanilla Latte Via is about the same.
Between the two of them, I like the Mocha version much better than the Vanilla. I just think it tastes truer to a mocha flavor.  The Vanilla version seems to lack a lot of coffee flavors of a real vanilla latte.
The official Starbucks newsroom article on them is here: Starbucks Expands Portfolio with First Ever Starbucks Via Lattes.  The single packets for one dollar will look like this: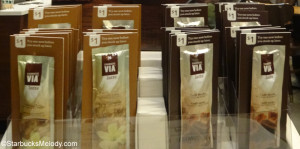 Of course, there are a number of things new to Starbucks on January 7, 2014: Casi Cielo returns to Starbucks, and for the first time is available in Verismo pod format, as well as the K-Cup format, and whole bean.  I recommend Clover brewed for this year's Casi Cielo!  There's a pretty copper-shade French press too: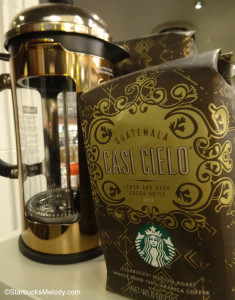 I will say there is one thing about the French press that is a disappointment.  It used to be, years ago, that when you bought a French press at Starbucks, it had the logo on it, at a minimum.  I've noticed that Starbucks has long-since stopped putting their logo on French presses in their stores. It makes it a little less exciting – it may be a pretty copper, but the bottom line is that it's a plain French press.
There are several new coffee mugs.  This one is great!  It says "Fresh Brewed Inspiration for the Day Ahead" on it.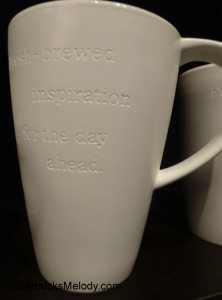 And I love the new made-in-the-USA logo mug.  It's made by the same factory in Ohio which produces the special Ohio mug and Hawaii mug. I have a feeling that these new logo mugs will sell out quickly!  I've already bought one for my collection.  I would note, somehow my photo's coloring is a little off.  The mug is almost an off-white or cream color, but this photo makes it look pretty white: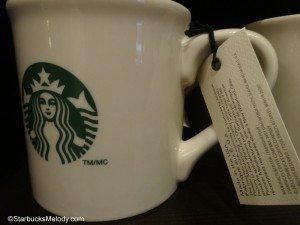 I'm a fan of the small, 8-ounce size tumblers, and so I have to admit this one caught my eye too: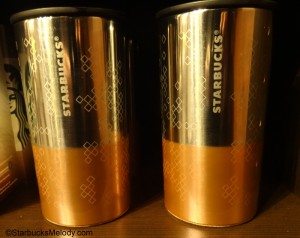 And of course, you can buy a Casi Cielo-inspired coffee mug: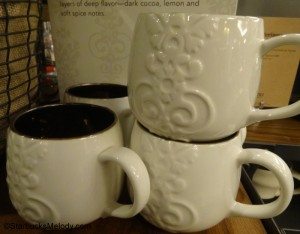 That's a quick look at a few new things. Of course, I'll write more later.  The big thing is the new Via Ready Brews which are dairy-based rather than being just a plain flavored coffee, as with past flavored Via Ready Brew.  Have you had a chance to try the new Via?
Last but not least, the new door cling: 🙂 (There's A Lot To Love)
Related posts