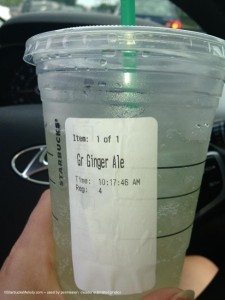 Handcrafted Starbucks sodas, including root beer and ginger ale, now offered in select stores in Atlanta, and Austin:
In June this year, Starbucks entered its second phase of testing carbonated beverages, including their own proprietary handcrafted root beer and ginger ale.  The new test includes a limited number of stores in Atlanta and in Austin, Texas.
The first handcrafted soda test was this past April, and limited to a small number of Starbucks stores just north of Seattle.
Several readers emailed me their photos from the handcrafted soda test.  All I can say is that I wish this would go national.  This is a great idea.  Take a look at these photos!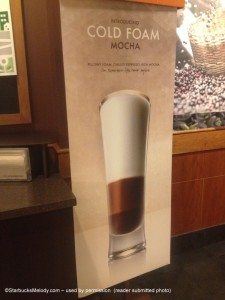 A limited number of Starbucks in Nashville are now testing a "Cold Foam Mocha."
A small number of Starbucks stores in Nashville, Tennessee, are testing an all-new beverage called the "Cold Foam Mocha."  This test began around June 25th.  I have to admit, when I heard the name of the test, I pictured something like the Iced Cocoa Cappuccino beverage which was offered about four years ago, but I guessed wrong.
As I understand it, a special "cold foam" is prepared in advance in whipped cream canisters.  Shots of espresso are poured into milk steam pitchers with the right amount of ice in it, and then the espresso is stirred.  Then the cold espresso is poured over the "cold foam" in the cup.  In other words, it seems as though the steps might be this.  Place correct amount of cold foam into plastic cup. and add in the right amount of mocha (or white mocha).  Place the right amount of ice into milk steaming pitchers.  Add shots and stir a little, and then pour over the cold foam.
To be honest, I'm having a lot of difficulty imaging what this tastes like.  This is one of those drinks where I wonder how did someone come up with this!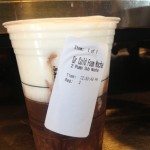 If by any chance you have tried the Starbucks Cold Foam Mocha, I would love to hear your thoughts!  (Or any thoughts you might have on these test beverages).
Please keep in mind that Starbucks tests many more beverages than what actually makes it to a final, national launch.  Don't hold your breath that these drinks are coming to a store near you – these truly are in the testing phase.
Related posts