Your Starbucks World (Your Photos from the Mailbag).
Melody, July 17, 2013
9
1 min

read
I thought I would share with you a few of the many photos that have been emailed to me recently.  Hope you like this glimpse of Starbucks all over the world:
From Lake Geneva, Wisconsin, one reader sent in a few photos of her neighborhood store.  What a cute little store! She says great things about this store – apparently, in Lake Geneva, there is only one Starbucks:
A reader in Rotterdam, the Netherlands, sent in these photos – this store hasn't been open very long! The grand opening was November 26, 2012, and the photo showing the line is from opening day.  As I am told, this store stays very busy.  The reader is a partner who loves Starbucks, and has long-term goals of eventually working on Starbucks design.  Here they are:
From Peru, a few interesting photos from Trujillo and Cusco Starbucks in Peru.  I thought the syrup photo was interesting!
In addition, I can always say that it's interesting to have a glimpse at the food offerings in the pastry case in international Starbucks.
Last but not least, from Canada, I thought this was great looking chalkboard art: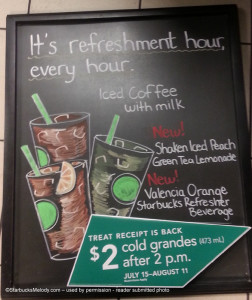 Hope you enjoyed this addition of from the mailbag! Thank you to the many readers who emailed me! (If want to reach me, please see the instructions in the right-side column of this blog.  I really am sorry, but I cannot promise to use every photo submitted to me!  Thanks again!
~Melody
Related posts