Starbucks Thailand's super cute Starbucks card and gift card holder.
Melody, March 11, 2013
12
1 min

read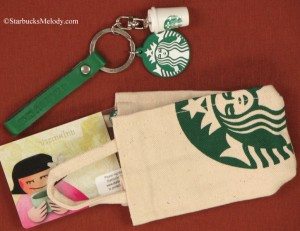 A reader of this blog (who is located in Bangkok) contacted me, asking if I had a Starbucks card from Thailand!  I will say that this card shown in this article is my very first  anything (Starbucks-related) from Thailand!  It's such a pretty card.  I assume the Thai script on the front side actually says, "Starbucks."  And you can apparently register the card at the Starbucks Thailand website.
What really blew me away was how incredibly adorable the gift holders are for the cards.  I assume that customers must separately buy these little canvas gift holders, but it's just absurdly cute.  Throw in the key chain, and it's precious.  I would love to see a little gift card holder set like this sold in the U.S.!
I don't have much else to say about this Starbucks card.  Hope you like it too.
By the way, if you like looking at Starbucks cards, I have a number of other articles on cards here.
(Edit on March 11, 2013:  A reader who reads Thai contacted me.  This card says "Thailand" on it, not "Starbucks.")
Related posts