The Exclusive 1912 Pike Place Starbucks Card & Made in the USA Mug. (Giveaway)
Melody, July 18, 2013
107
3 min

read
If you ever decide to visit the Starbucks at 1912 Pike Place, you'll find that there is a lot of merchandise exclusive to that store.  One of my favorite things is that they have a Starbucks card which is exclusive to their store!  And, the 1912 Pike Place Starbucks offers a made-in-the-USA mug, which is produced by the same factory in Ohio that supplied the "Indivisible Mug"  from just last year.  In fact, I think that some people don't realize that Starbucks helps sustain the American Mug and Stein factory  by continuous orders for these special 1912 Pike Place mugs.  Here's the exclusive mug and card: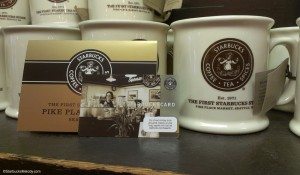 That card has $10 on it, by the way.  You can enter to win one of those coffee mugs and that very card.  I will cross my fingers for you!  (Winner drawn at random.)  Some of my readers already know that I have another blog, called MelodyEats.com – it's essentially a fast food and quick dining restaurant review blog.  I don't want to sound tired of Starbucks, but I will say it's refreshing to have a whole new topic to write about.  I'm hoping that you will "like" MelodyEats.com.  (That's not a requirement though.)  You do have to leave a comment below on this blog.  I'd like to hear from you about your favorite fast food restaurant,  whether that is Subway, Jimmy John's, Pizza Hut, McDonald's, Wendy's, Panera, Qdoba, Taco Bell, Fatburger, Red Robin, or any other such dining establishment.  Please tell me what's your favorite thing to order.  I think it'll be fun to read about your favorite menu item, and it might give me some ideas about what to order for future MelodyEats.com blog articles.  There are some conditions – you have to be talking about a chain in the comments.  It cannot be a mom and pop shop with just a few locations.  It needs to be chain with at least 100 locations in the United States.
In order to enter, you must be over eighteen.  You must have an address within the United States.  You must make your comment below before 8:00 p.m. PST on July 26, 2013, or before there are 150 comments below, whichever happens first.  I'll be totally honest here – I've never done a blog post where I haven't had at least a half a dozen people attempt to enter, but not follow the rules.  The most common mistake people make is that they send me an email rather than leaving a blog comment below.  You really do have to follow the rules!  Sorry!  Leave a comment below about your favorite large fast food chain and what you like to order.   (If I have not been clear, those are the two things that somehow have to be mentioned in your comments – a large chain and what you've ordered that you like.)   You don't even have to mention Starbucks!  I hate to say this, but I will delete the comments below that do not fit the rules for this contest.
Wishing you the best of luck in winning this Starbucks card with $10 on it, and this wonderful coffee mug!
(Edit on July 24, 2013 – I've had a number of people leave comments (not approved) where they're talking about small mom and pop businesses, and/or not mentioning what they like to order.  I hate to not post such comments, but it wouldn't be fair to those who did follow the rules.  Mention a fast food chain with more than 100 locations.  Tell me what you like to order.)
In case you're curious, here's the merchandise wall with this great mug on it: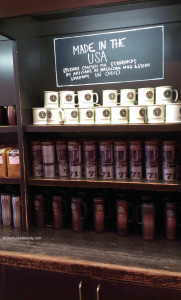 Related posts