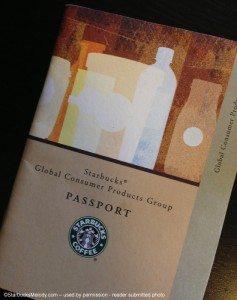 Years ago, there was a Starbucks CPG passport!  A reader (a Starbucks partner) sent me this photo of her old CPG passport!  I like this idea.  And now, the number of CPG items in the grocery store is huge!  For those who don't know,  CPG standard for "Consumer Products Group."  It's the area of the business that involves pre-packaged items, usually found in grocery stores, but could be sold in many different places, including the actual retail stores.
On Saturday, July 20th, I walked through a QFC grocery store in Seattle's University Village neighborhood, and took pictures of all the many Starbucks CPG items.  There are so many now that it is pretty impressive.  I think a lot of people don't realize the variety of Starbucks-produced items at the local grocery!  Because of the large variety of grocery items, this is precisely the reason I think Starbucks is due for a new CPG passport (and I would like a customer version too, please).
By the way, some analysts suggest that CPG will be a big growth driver for Starbucks in the future.
Of course, first and foremost, there are bottled Frappuccinos!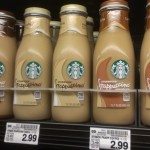 Starbucks first introduced the bottled Frappuccino in 1995, after the failure of an earlier (and very first ever) CPG product called Mazagran.
You can also find Starbucks ice cream at the grocery store:
Starbucks ice cream is being discontinued! According to the 1997 Starbucks Annual Report, Starbucks began offering ice cream in 1996.  That's a lot of years of Starbucks ice cream.  I hate to say this, I am not that crazy about Starbucks ice cream.  It doesn't taste all that great to me, so seeing it go is no love loss.  Starbucks ice cream has gone through many recipe changes and went from being produced by Dreyer's to being produced by UniLever.  Good bye Starbucks ice cream.
You can buy ready-to drink Starbucks Refreshers: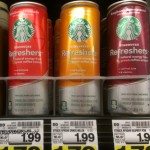 Canned Refreshers began showing up in grocery stores in early 2012.  I like these!  These are indeed refreshing!
Starbucks Discoveries are now available at the grocery store – there is a mocha, vanilla, and a caramel macchiato flavor: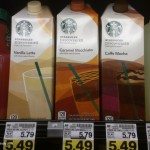 I'm not a huge fan of these either.  I'll pass on these too.
You can find a variety of Starbucks whole bean coffee too,  And a variety of Via Ready Brew offerings.  As to the whole bean coffee, your local grocery store is usually the only place that you'll find a "core" (meaning that it's always offered) Starbucks single-origin Colombia coffee – I highly recommend that you pick up the Colombia coffee:
As to the Refreshers Vias, at the grocery store, you'll usually find Cool Lime, Very Berry Hibiscus, and Strawberry Lemonade.  The Strawberry Lemonade Via is delicious!  You must try these!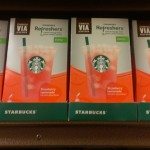 You can find Evolution Fresh juice, cartons of Tazo chai concentrate (including decaf chai), and of course you can find Seattle's Best Coffee too!
There is still more at the local grocery store!  There are a variety of Starbucks K-cup pods, including Tazo tea pods for the Keurig single serve machine: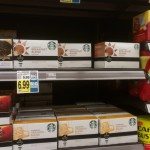 And, there are a variety Tazo teas in filter bags: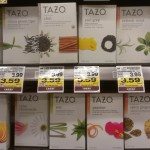 Starbucks recently launched a bottled iced coffee.  I do like the iced coffees – they're pretty good.  There's more – Starbucks double shot drinks in cans.  I've always thought that the idea of espresso in a can is a little weird, but they seem to be very popular.
Hope you enjoyed this walk through my grocery store with me!  What do you think?  How about a Starbucks CPG passport for both customers and partners?  Which one is your favorite? What would you want to see in the grocery store?
Related posts