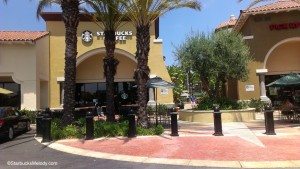 Tucked away in South Orange County, there is a Starbucks offering  Clover – Reserve coffee, beer and wine, and a small selection of unique foods.  There are actually very few of the "Evenings" Starbucks so I definitely want to shine a spotlight on this location.  I visited on June 25, 2013, and met the manager Craig.
Here's the store's address –
Starbucks
30465 Avenida de las Flores
Lowes Plaza
Rancho Santa Margarita, California 92688
(949) 589 9028
In case you are curious, this store has been at this location for just about 13 years – its grand opening was November 18, 2000.
I tried to get a good photo of the Clover.  In California, it appears to be the law that these plastic barriers must separate you from the Clover.  You don't see these in Seattle.  It has one Clover and I'm told they do very well: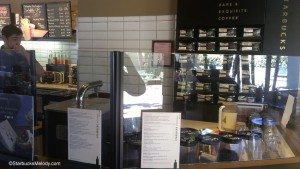 Craig and I did a coffee tasting of the Panama Carmen Estate and chatted for a bit.  I thought this was awesome: in June this year, the stores in this district collected over 5,000 bags of at-home coffee (whole bean and Via) and gave it to the troops at Camp Pendleton, a nearby Marine Corps base:
This is a fairly large store, with long bench seating (with a mural behind it), a community table, and an area in the back with a table and tall chairs.  The back area seating has a very cool wall made out of wine boxes: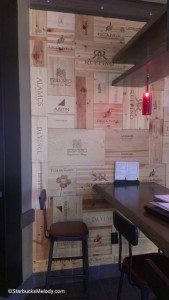 Let me show off a few more photos of this Starbucks:
Hope you enjoyed this trip to Orange County, California, to visit an Evenings Starbucks!
Related posts