In 1998, Starbucks introduced Breakfast Blend into the lineup of whole bean coffees.
As readers of this blog know, just this past June, Starbucks unveiled new packaging for all their coffee.  I showed off pictures of the new Kenya, Komodo Dragon, Yukon Blend and Veranda packaging  in this previous StarbucksMelody.com article.
All of the new packaging has little hidden words and/or images which reference some history or story behind that coffee.  The current Breakfast Blend packaging really is superb in giving little clues to its unique history.
Turning back to 1998, Breakfast Blend was introduced with words "Milder Dimensions" on the flavorlock whole bean packaging.  It was one of four coffees launched and branded as "Milder Dimensions."  The four coffees were as follows:
Light Note Blend
Decaf Light Note Blend
Breakfast Blend
Serenade Blend
A while back, I had purchased this poster off eBay (and had been storing it in my office), and now is the perfect moment to show it off as part of the Breakfast Blend story.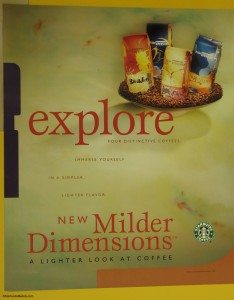 If you take a close look, you can see the original Breakfast Blend whole bean packaging!  If you take a very close look at the current Breakfast Blend package, you'll see in faint letters, the words "Serenade"  and "Milder Dimensions" on the back side of the bag.
And so now, if someone asks you, "Do you know why it says, 'Serenade' and 'Milder Dimensions' on the bag of Breakfast Blend?" you'll now have the answer.  You can say this: "That is in tribute to the original 1998 packaging, and the now-gone lineup of 'Milder Dimensions' coffees which included four coffees: Serenade, Light Note, Decaf Light Note, and Breakfast Blend.  Breakfast Blend is the only remaining of the four Milder Dimensions coffees."
By the way, I know that I enjoy Starbucks history lessons, and I hope you do too: you can read more of the old Starbucks history lessons on this blog by clicking through here.  Enjoy!
(Please disregard the yellow mat boards behind the Milder Dimensions poster.  I took the poster to a friend who has a frame shop in Seattle, and in this photo it's on her work table, and we discussed what mat boards might look good for this poster.)
Related posts