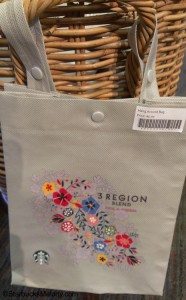 I dropped by the Starbucks Coffee Gear Store today (August 2, 2013) and just fell in love with these adorable small shopper, Three Region Blend-designed bags.  I love the Three Region Blend artwork.  It's very pretty.  The coffee bag's design went through a major overhaul, and so the current Three Region Blend design is new for 2013.  Also at the Coffee Gear Store, was a little larger version of the same bag, with a white background, not gray.
Just as a reminder, the Starbucks Coffee Gear is open to the public.  You do not need to be a Starbucks employee (Starbucks calls their employees "Partners") to go shopping at this store.  It's open Monday through Friday, normal business hours, and is located on the eighth floor of the Starbucks headquarters, at 2401 Utah Avenue South.
The Starbucks headquarters has its front doors along First Avenue South, and you want to go inside and take the elevators up to the eighth floor.  Off to your right is a small store, open to the public.
Most of the merchandise at the Coffee Gear Store is exclusive to that store.  For example, it's the only place where you can buy a Starbucks cycling jersey.  There are child's sized green aprons, a variety of keychains, t-shirts, pens, books, and several great tote bags, and much more.  The Three Region Blend inspired merchandise is new, as I already mentioned.
I'll just leave you drooling over my new little tote bag. 😉  You can get more of sense of this store's special merchandise by scrolling through some of the older Coffee Gear Store articles.
Here are a few more pictures from today's visit:
Related posts