Starbucks of 1992: the Pike Place Market Cookbook
Melody, August 12, 2013
8
3 min

read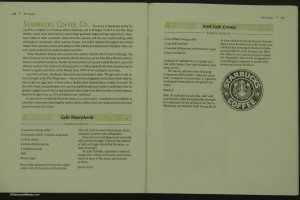 In 1992, Starbucks operated 154 stores.  That's it. In 1991, it was only 107 Starbucks stores.  It's hard to imagine a Starbucks corporation that small!  (Well, before June of 1992, they were not a corporation, considering that the initial public offering was in 1992).
In the summer of 1992, Starbucks modified their logo to the very famous version with a Siren with no belly button or bottom half, and the words "Starbucks Coffee" around the logo.  From 1987 to 1992 (before when the company went public), the logo was a green complete Siren, showing off both her tails, and her belly button.
The Pike Place Market Cookbook in this article is copy-righted 1992, though given that the version of the logo shown dates before 1992, I would assume that they started working on the copy for this book in 1991.  This cookbook features a series of recipes, and stories about the businesses at Seattle's Pike Place Market.  I read through the two pages on Starbucks and enjoyed the short piece about the 1912 Pike Place Starbucks.  It's just funny to read that Starbucks' espresso bars "stretch from the West Coast to Chicago."  As I mentioned, it's hard to think about Starbucks ever being that small at one time!
Here's the Starbucks story, as told by this 1992 Pike Place Market Cookbook: (Take a look at the logo in the Pike Place Cookbook – that's the 1987 to 1992 version of the Starbucks logo.)
The story of Starbucks Coffee Co. could be a chapter in a business-school casebook, and it all began in 1971, in the Pike Place Market, where three San Francisco area college graduates began selling roaster-fresh, whole bean coffee to retail customers.  Other branches opened, and the men started selling coffee whole to restaurants, other espresso houses, and coffee retailers throughout the United States.  When espresso drinks were added in 1984, Starbucks helped launch Seattle's coffee culture, and a multimillion dollar business was born.
Today Starbucks' Italian-style espresso bars stretch from the West Coast to Chicago.  The three founders are no longer associated with the business, yet the Pike Place Market outlet remains a venerated touchstone.  Market musicians like to set up just outside the door, and you'll often be treated to a string quartet or a folk song sung by blind street musician Jeanne Towne (a regular performer at the Market since 1978) while waiting for your latte.
Lisa McCrummen, Starbucks' Special Events Coordinator, adds, "We get such a wide variety of people at the Pike Place store – the more knowledgeable want to know from what estate we get our aged Java, or they order a double short almond breve, nonfat, of course!  On the other hand, one gentleman who wasn't as sophisticated just couldn't understand why his grinder clogged up and why he such bad coffee coffee made from the chocolate-covered espresso beans he bought from us.  (We sell them to eat, not to brew!)
In case you're wondering about the name, it's a siren motif, "intended as an invitation to a journey of discovery, exploring the world of exotic coffees which are shipped across the seven seas to our port city home."
Notice that after the Starbucks story, there's a recipe for iced coffee.  If you try it, let me know!  It looks like a pretty exotic iced coffee.
(Here's the Seattle's Best Coffee story from the same book.)
Related posts