Grand Opening: A New Clover Starbucks at Pike and Broadway
Melody, August 10, 2013
15
2 min

read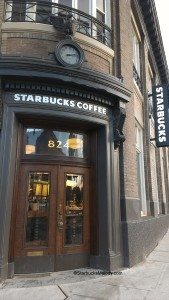 Today is the grand opening of a new Starbucks! At 5:00 a.m. today, August 9, 2013, the new Pike and Broadway Starbucks swung its doors open for customers.   This is a fantastic Starbucks on the corner of Pike and Broadway, in Seattle's Capitol Hill neighborhood.
Let me tell you a little bit about this store.  The store manager is "Mikey," whom some of you know from the "Employment Opportunities" window cling on many Starbucks store windows.  This store is a beautiful Clover – Reserve store, and has been designed with a unique pastry case, and merchandise area.  The photos speak for themselves!
The building itself dates back to either 1903 or 1913! I had heard from a very reliable Starbucks partner source, that the building was built in 1903.  When I looked on the King County Assessor's website, I saw 1913.  All I can say is that it's old building.  And the store itself is a little less than 1,700 square feet.
The store design is gorgeous.  I love the tables with a live wood edge, and the extremely unique merchandise wall.  Also, you'll notice that the pastry case is one-of-a-kind, with a large, flat, open display of bakery goodies.  The La Boulange branding is right on glass front to the pastry display.  While I didn't take photos of the many power outlets, power strips are installed below all of the window seating, along the walls, and in several other places.  You won't struggle to find an outlet for your electronic device.
It's  gorgeous.  And, the team of partners are fabulous.  This store happens to have a number of people that I know from other stores, so I am really happy to say that you'll find a world-class dynamic team.  There are two coffee masters right now too.
If you want to visit, here's the store's address:
Starbucks #19468
824 East Pike Street
Seattle, WA 98122
(206) 329 5147
I hope you'll visit soon!  Be sure to click onto the photos to make them larger.  I look forward to comments on this one-of-a-kind gorgeous Starbucks.  (I took all the photos the morning of its grand opening, August 9, 2013.  As always, do not use without permission.)
Related posts