March 15 – 20th only: Get this "secret" Cherry Blossom Frappuccino at Starbucks.
Melody, March 14, 2016
7
2 min

read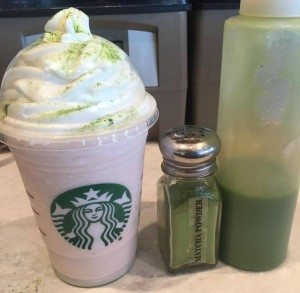 The Starbucks blend masters at the Seattle headquarters have come up with an all-new Frappuccino for you to enjoy: The Cherry Blossom Frappuccino. (So named for the beautiful pink and green colors, reminiscent of cherry blossoms). Be sure to snag this Frappuccino the 15th – 20th of March.
Here's how this drink is made:
First, the barista measures milk (whole milk is the default) to the first line of the cup, strawberry juice to the second line, and Classic Syrup. (Classic syrup is like a plain sugar water). It's the same strawberry juice that is used for the Strawberries and Creme Frappuccino. The barista adds 2 pumps of Classic Syrup for a Tall size (12 ounces); 3 pumps for a Grande (16 ounces); and 4 pumps for the Venti size.
The milk-strawberry juice – syrup mixture gets poured into the blender.
As with every Frappuccino, next comes ice and a Frappuccino base. In this case, it's the creme base, which does not have coffee in it. The base in a Frappuccino is a special Starbucks proprietary syrup that adds a touch of sweetness and helps the drink to not separate too quickly.
Next the beverage gets blended.
Before the Frappuccino gets poured into the customer's cup, the barista will line the cup a couple of times with white-chocolate matcha drizzle, made special for this limited-time Frappuccino promotion.
Your drink will have a fun blend of pink and green in it (it's nearly spring!) and will have a touch of a white mocha sauce flavor to it too. (There's no coffee in this Frappuccino. White mocha describes a white chocolate flavor).
The Cherry Blossom Frappuccino gets finished with whipped cream and a few shakes of matcha powder atop the whipped cream!
Just a tip about this drink: if you order the Cherry Blossom Frappuccino a little heavy on the white-mocha-matcha drizzle, you'll get a more green drink than pink in color.
Enjoy!
Related posts