On September 17, 2013, I picked up an email from My Starbucks Rewards which looked like this: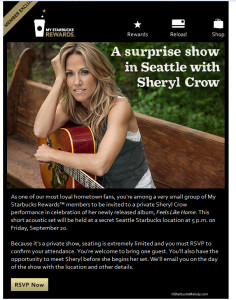 Yes, I was totally surprised to get this! Wow!  I don't really know how I ended up so lucky.  All I know is that I am totally happy and grateful that I got to experience this!  This was definitely a rare My Starbucks Rewards opportunity.  The email stated I could invite one person, so I contacted a friend who quickly said "yes", and reserved my seats.  There was indeed a brief meet and greet opportunity before the show started.  I took this picture of Sheryl Crow during the meet and greet: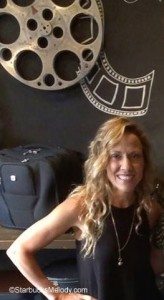 By the way, it seemed as if only those with the My Starbucks Rewards invitations (printed from the email) could attend the meet and greet.  The small group of people who were part of My Starbucks Rewards were given the first choice of seats and the opportunity for the meet and greet.  The venue was Roy Street Coffee and Tea.  My guess would be that there was no more than 30 "My Starbucks Rewards" individuals present, but to be honest, I was having such a good time that I didn't think to try and get some kind of head count.
Sheryl Crow began the show with "All I wanna do."  She sounded so great!  It was hard not to sing along with every word!  I snapped this photo fairly early on into the show – you can get a sense of how amazing this was: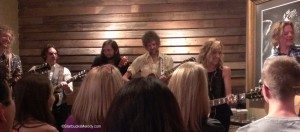 Another thing that was very cool about this was that Sheryl Crow talked quite a bit about how she likes going to Starbucks!  She seemed very genuinely enthusiastic about Starbucks!  She proudly let us know that she has a gold card, and that her usual beverage is a "Triple Venti Non Fat Latte."  She played "Easy" from her latest album, Feels Like Home.  I totally enjoyed her newer music too!  The last song was Everyday is Winding Road, another great song!
In the middle of the show, singer Brandi Carlisle joined Sheryl Crow on stage:

And then, when the show was over, I swiped a set list from the floor.  I just thought it would be a fun souvenir!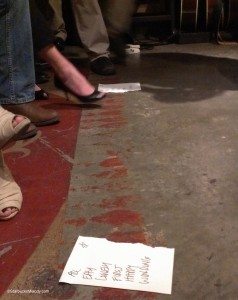 As if you could possibly be confused whether Starbucks was sponsoring this, the official Starbucks partners working the event brought a small My Starbucks Rewards sign with them!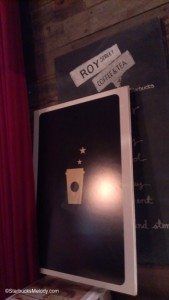 All I can say is that this was a pretty amazing this for Starbucks to do!  Thank you!  If you are not part of My Starbucks Rewards, click the link to join.
I leave you with one more great Sheryl Crow photo: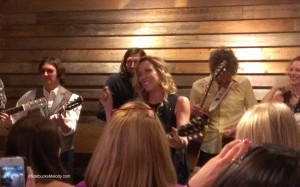 (I took all of these photos at Roy Street Coffee tonight, September 20, 2013.  As always, do not use without permission.)
Related posts