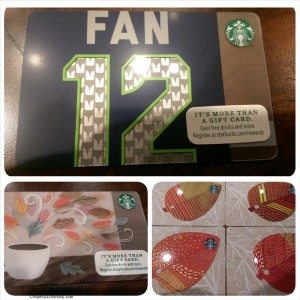 Starting on September 2, 2014, you'll find some beautiful new Starbucks cards at your neighborhood store. The new autumn seasonal cards include four cards (in the shape of leaves) that can be used as key chain cards, and one traditional card. The one traditional (rectangular) card has a coffee cup with leaves like steam above it. I really like the card with the coffee cup and leaves as steam! Actually, I think all the new cards are very pretty. I personally wouldn't use a key chain card but I do think they're pretty.
As always, you can use any Starbucks card to earn and redeem all your MyStarbucksRewards perks – so register your card! Here's the new seasonal cards: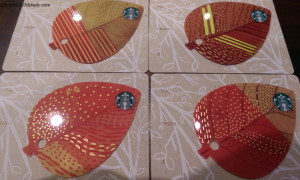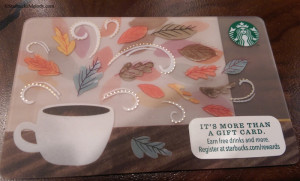 If you want to learn a little more about registering a Starbucks card, click here. Earlier this year I wrote a quick article summarizing the benefits of registering a Starbucks card (and it still almost entirely contains good information – one thing has changed since I wrote that article here, there are now bonus stars for buying at-home coffee at Starbucks.)
You may soon see a Seahawks fan card available in Seattle Starbucks stores, and some greater-Seattle locations. It's a "12th Man" type card. When you remove the sticker that says "It's more than a card…" you'll find the Seahawks logo underneath it. I have a feeling these cards will go quickly: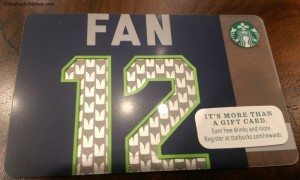 So if you're a Starbucks card collector, be on the lookout for these great cards!
Now is a good time to mention that if you're a Starbucks collector, there will be a Starbucks "Coffee Con" on October 10th and 11th. I assume there will be lots of people with booths who are selling and trading collectibles. I'll have a booth too and you'll find me there with a stack of Tales of the Siren books (I'll take payment in the form of Starbucks cards. One $10 Starbucks card equals buying a book.)
Related posts