Thank you to the many readers who submit their photos to StarbucksMelody.com!  I thought I would share some of my favorite Starbucks photos, all sent to me in the past few weeks or so.
One reader went on a vacation to Hong Kong, and other places, and while in Hong Kong, took a picture of the Starbucks "Opportunity to be a partner," window cling.  I find these window clings to be super interesting! I enjoy seeing them.  I know that Starbucks always uses real partners for these window clings, so it makes me wonder who is being featured.  Right now, in the United States, there are two commonly-found "Opportunity" to be a partner window clings.  One features the store manager of the Pike and Broadway Starbucks (Mikey), and the other one features the store manager of the 7th and Pike Starbucks (Meryl).  (You can follow Starbucks partners on Twitter here.)  Here's the Hong Kong "Opportunity" window cling: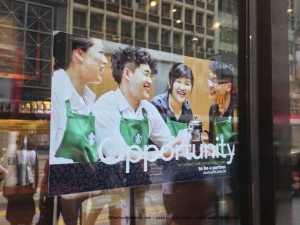 I also received a great photo of the Canadian launch of Thanksgiving Blend.  This is a great coffee, first introduced in 2008, and now offered in many countries.  (In many countries, this coffee is renamed "Autumn Blend.")  This year is the first year that Canada is getting this coffee (as well as many international markets).  The photo below, of course, features the Canadian packaging, which is interesting to see!  And, I like the chalkboard art!  I feel like I am ready to see Thanksgiving Blend land in Starbucks stores.  At least in Seattle, it feels like fall weather has really hit us.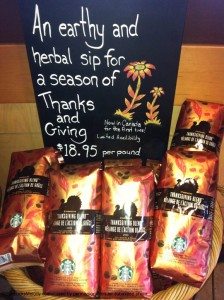 Last but not least, a reader sent me a series of photos from the famous New York Time Square Starbucks.  I particularly liked this one.  That store is often tied with Pike Place Starbucks as one of the most profitable stores in the United States.  I got into a discussion with the reader about which Starbucks in the United States is the largest.  The person who submitted this photo, seemed to think that the New York Times Square Starbucks was the largest in the country.  I'm not sure about that.  I can't even recall where I heard it, but I recall being told once that the San Antonio Riverwalk Starbucks (111 W. Crocket) was the largest store in the U.S., clocking in at around 5,900 square feet.  However, I believe that the 111 West Crocket Starbucks has since closed.  The next largest Starbucks, I think, could be the Harvard Yard Starbucks, which is very roughly 5,000 square feet.  Another contender for the largest Starbucks in the United States could be the Streets of Woodfield location, in Chicago, which is about 4, 500 square feet.  If anyone knows for sure which Starbucks in the U.S. is the largest, I am all ears.  The New York Time Square Starbucks is reportedly about 1,750 square feet.  Here's the Times Square photo: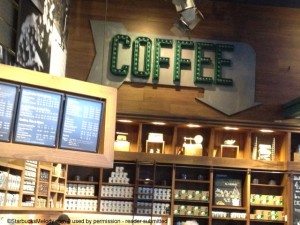 Thank you again for sending in your pictures!
Related posts