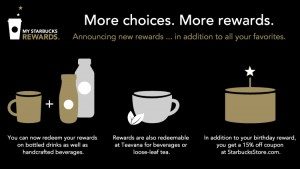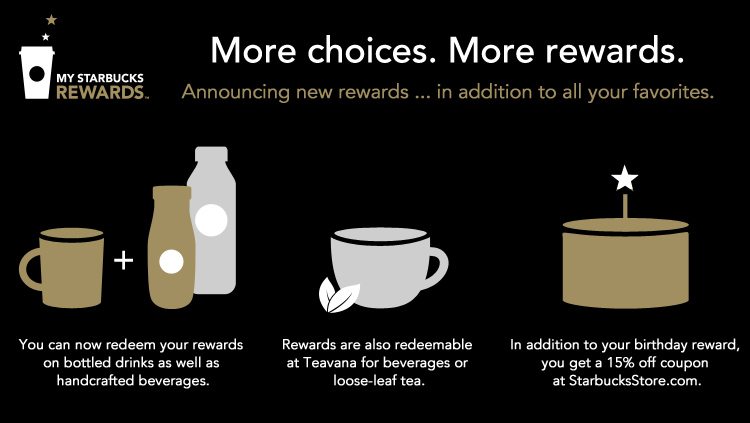 Starting October 15, 2013, there are more perks when you are Starbucks Gold!
More Rewards:
You can now redeem your "Lucky Dozen" rewards on bottled beverages in the ready-to-drink cold case inside Starbucks stores!  This means that you can use a Lucky Dozen reward for a bottled tea, Evolution Fresh juice, a canned Refresher, or other RTD item!
Also new, when you receive your birthday reward, you'll now get a coupon for 15% off your next purchase at StarbucksStore.com.  Of course, My Starbucks Rewards Gold-level members still earn a star for each transaction at all Teavana and Evolution Fresh stores.  In addition, you can now have the option of redeeming your Lucky Dozen reward for a free one ounce of tea at Teavana.
(Keep in mind My Starbucks Rewards is very seamless.  You can use your Teavana – Starbucks card to earn stars, or any Starbucks card you wish – so long as it is registered to your Gold-level profile and has money on it.)
Also beginning October 15, 2013, Starbucks is reporting that many airport Starbucks stores in the United States and Canada will now be able to redeem the Lucky Dozen rewards!  You'll both earn stars, and be able to redeem them at the airport!
The cards have a new sparkle look:
There's one more amazing thing.  The new Gold cards have a pretty new sparkly look to them: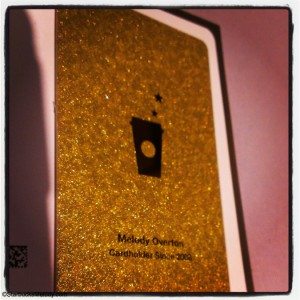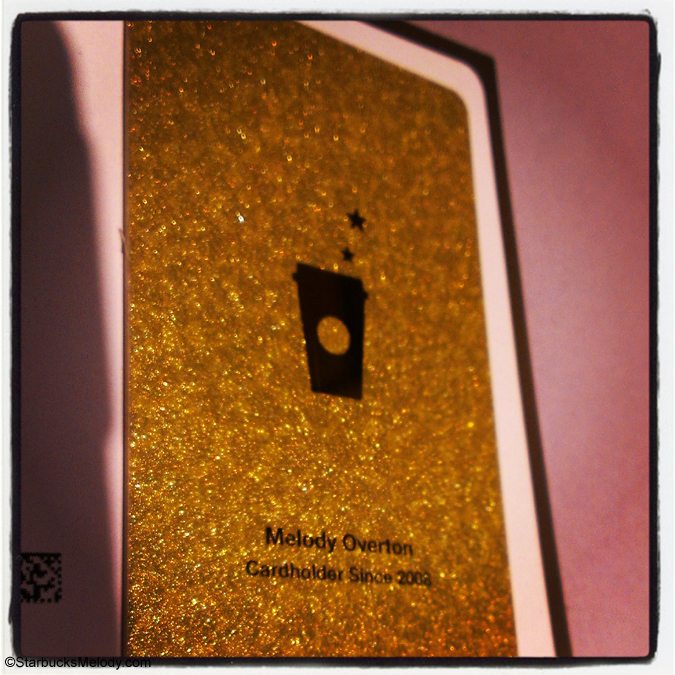 I like the sparkly version much better than the original flat-style gold cards that were issued when the program began in 2009.  (In 2008, there was a Black Gold Card, but that was a very different program than the current program).  So pretty!  I think I may start finally use my gold card.  I've been using an Evolution Fresh card for quite a while now.
Don't worry if you've reached gold but have not yet received your card.  Just make sure that you're tracking your rewards with either the iPhone or Android app, or logging in to Starbucks.com to see all your rewards – even if you're still waiting on your gold card to arrive, you can still earn and use your Lucky Dozen My Starbucks Rewards.  (Once your profile reaches the Gold level, you start earning your rewards every twelve "stars" once you reach gold.  And, you can even earn stars for buying coffee at your local grocery store.)
(Find me on Instagram as StarbucksMelody, if you're interested.)
Edit on 10-11-13 at 5:00 p.m. —  Caution – I have been able to confirm with an official Starbucks spokesperson that the breakfast sandwich promotion mentioned below was by email invite.  I am sorry to disappoint, and apologize for any confusion.  If you did not receive a promo email from Starbucks, then you're not earning the bonus stars.)
Bonus stars with breakfast sandwiches now through October 15:
Last but not least, you can earn stars much faster with "bonus stars."  Right now, through October 15, 2013, Starbucks will give you 3 stars every time you're purchasing a breakfast sandwiches!  That's one way to get to your Lucky Dozen rewards faster, or get to gold faster, if you're not there yet!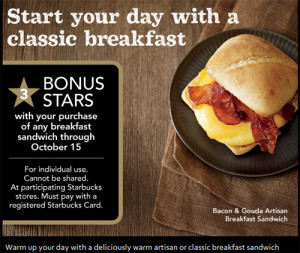 (Edit: I was contacted by a reader who forwarded to me his email – some people got an email that offered them 5 bonus stars with each breakfast sandwich! Wow.  This reader didn't get the same email as I did.  I had assumed that everyone would earn bonus stars for breakfast sandwiches, but didn't realize that some people would earn a higher level of stars for each breakfast sandwich.)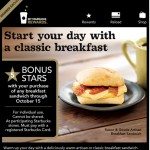 Related posts