Starbucks Gets Book Bombed! Read all about it!
Melody, September 23, 2014
18
4 min

read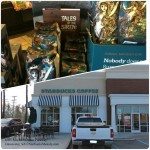 Starbucks has been book bombed! All across North America, more than 135 books were hidden inside of Starbucks stores! I organized a street team of people who volunteered to hide Tales of the Siren: A StarbucksMelody in their local Starbucks stores.
This ended up being super fun! I wanted Tales of the Siren: A StarbucksMelody to wind up in the hands of store managers who might then, in turn, share it with their teams. Much to my delight, I got tons of feedback from Facebook, Twitter, and Instagram of partners who thoroughly enjoyed finding the book in their lobby. Each book had a handwritten message inside indicating that the book was left intentionally for the store manager to find. And I did get a ton of feedback that some stores were indeed circulating their "store copy" around from partner to partner.
I accomplished pretty much what I wanted. I wanted to get the book into the hands of lots of new people who might really enjoy it. And the feedback I got was terrific. Copies of Tales of the Siren ended up in Washington, Oregon, California, Arizona, Texas, Florida, New York, New Jersey, Virginia, Rhode Island, Tennessee, Idaho, Ohio, Hawaii, Georgia, Illinois, and also Canada.
It was much easier to "book bomb" Starbucks than I thought it would be. When I started this project, I worried that there would be so many lobby slides that it would be hard to "hide" things inside a Starbucks store. My guess turned out to be totally wrong. In fact, it's quite easy. By the end of the project, I realized that anyone could do this. While I was hiding a book about Starbucks, it occurred to me that the next group could be hiding bibles,  Scientology books, or whatever. Some of the books stayed planted in the store's lobby for hours upon hours before being found. In one case, I myself hid a book in a store, drove away, and returned six hours later, only to find the book untouched, and still laying atop of a number K-Cups boxes.
There were more books hidden than just in the photogrids below. Once in a while, I didn't get photos for hidden books.
I want to call attention to a few favorite book hides:
This is the Starbucks at 328 – 15th Avenue East in Seattle. A number of the scenes in Tales of the Siren happen inside this Starbucks, so that's why I wanted to call attention to it. This store was once an experimental store called "15th Avenue Coffee and Tea":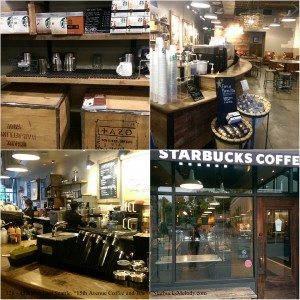 And I'll point out a few of my favorites from below. This is the Starbucks actually inside the headquarters. The "SODO 8" Starbucks is not open to the public, so getting a book hidden in it was a little bit tricky!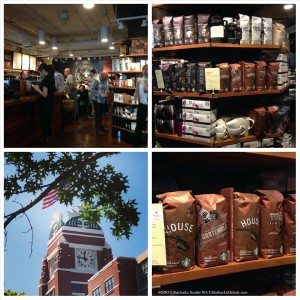 I got so many great pics, but this few stood out to me. I really liked this Blythe, California book hide. Very few of the hidden books ended up chilled! 😉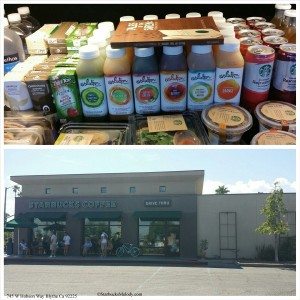 This Starbucks in Hurst, Texas is a striking building!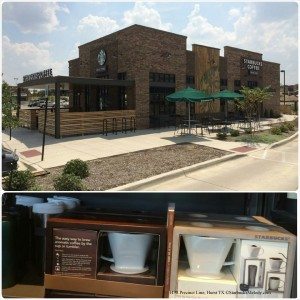 This Austin, Texas store is gorgeous too: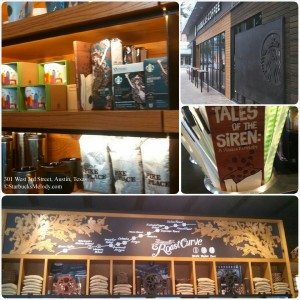 I want to thank the many people who signed up for the Tales of the Siren street team. There's no way I could have done this without them. It took a lot of people to make this work! Thank you to every single person who hid a book!
Look through all the photos! It's a tour of many Starbucks stores and see if you can spot all the hidden books!  A few of the books are hard to find. I promise every photogrid below has a Tales of the Siren book in it! 🙂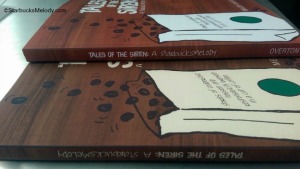 (By the way, shortly after this book hiding project ended, I changed the cover of the book. It's the spine of the book that's new and different – the orientation of the words is now much more standard. It's funny because I've had people joke with me that all these hidden books are now special editions. 😉 LOL – If you buy Tales of the Siren now, it will come with the cover shown as the top book in the photo with the two books)
For a review of Tales of the Siren, I suggest reading the review written by Portland Book Review.
Related posts