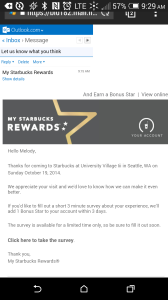 Starbucks has switched to emailed surveys for you to rate your store visit. If selected to complete a survey, you'll now get an email that says "We'd Like to Know What You Think."
There are no more in-store Starbucks paper receipts with survey invitations.
This summer, the in-store survey invitations changed to be a survey with no incentive to do it all. (Customers noticed the missing survey incentive, and asked for the incentive back on MyStarbucksIdea.com) In 2012, Starbucks switched to in-store receipts that offered one dollar off your next purchase. Before that, your survey receipt was worth one free tall hand-crafted beverage. And long before that, your survey receipt allowed you to enter into giveaways for money prizes. All the old invitations-on-in-store-receipts are a thing of the past now.
The new e-mailed surveys are major overhaul from what the old invitations-on-receipts ones were like: You now get a one "star" for doing the survey. If you're part of My Starbucks Rewards, the "star" will be credited to your account within three days of doing the survey.
There are far fewer questions. There are no demographic questions asking about income, age bracket, or even how many times a month you go to Starbucks. There are fewer questions about what your experience was. There's no area on the survey for a free form, opened ended response. You answer the questions on a scale of one to seven.
The new surveys are very mobile phone responsive! You can easily do the survey within a couple of minutes from your phone. I'm so happy to be able to easily do the survey on my phone now! You couldn't do that with the old version of the surveys.
Here's what it looks like.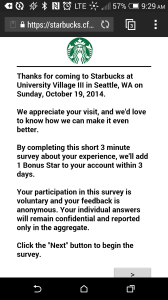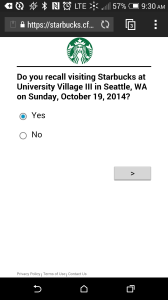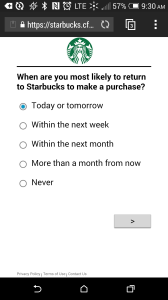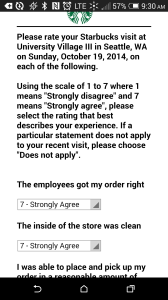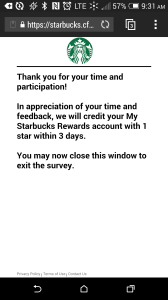 I can think of lots of pros and cons of this new survey system.
On the plus side, it's likely that many more people will take the time to fill them out, since they're now shorter and more convenient to do, since you can easily do it on your phone.  This is huge! And it's nice that there's now at least some incentive again for doing the survey. Lots of retailers offer some small incentive for doing a survey. Having a "star" as a reward, reinforces the My Starbucks Rewards loyalty program.
On the downside, there is no way to give any open-ended feedback on the store. There's no blank box for you to write what you like: I'm a firm believer that open ended feedback is still a good thing. I also wonder how Starbucks collects demographic data without the survey questions. It is possible that some people will ignore the survey in their inbox (or it will go to their junk mail folder), as some people might assume that it's spam. Since the surveys are now tied to My Starbucks Rewards, it seems like only My Starbucks Rewards members are doing surveys now. That seems like a skewed audience sample.
I think the new e-mailed surveys are a good move by Starbucks. More people will do the surveys since they're shorter and easier to do! The difference in length in dramatic. Like before, only randomly selected individuals will receive surveys about their store visits.
As an aside, I'd like to see Starbucks make more of a commitment to having the "Share Your Thoughts" pamphlets in every store (filled out with the district manager's name on the pamphlet). Feedback is extremely valuable, regardless of how it's collected. I've met many people in retail who think everything is fine if no customer has confronted him or her about something. It's a false sense of security to assume that silence means approval.  Some research suggests that half of unhappy customers stay quiet and say nothing. Other research is much more dramatic, suggesting that about 80% of those with an unhappy experience will say nothing at all.  Hopefully, if Starbucks has many doors open to feedback (i.e.,surveys and "Share Your Thoughts" pamphlets) they'll hear great feedback. But my only point here is the more feedback, the better.
Interestingly, I've heard partners tell me that now they can do surveys for their own store. The new e-mail survey system can randomly select a store employee now!
Have you gotten one of the new surveys? What do you think?
Related posts