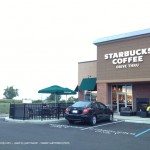 A reader of this site recently emailed me some great photos of a Starbucks Clover – Reserve location in Fishers, Indiana.  If you want to visit this Starbucks, it's at 13780 Olivia Way, in Fishers, Indiana.  The picture here that is the most striking to me is the one of the fireplace.  It's so unique!  I haven't quite soon that wall design with a fireplace before.  It definitely makes me want to plop by the fireplace with a cup of Ethiopia and my Kindle.
*****
I wanted to change the topic a moment.  I rarely talk about anything on this blog that doesn't have to do with Starbucks, and right now, I'm just writing about some real life stuff.  For years, I've been good friends with a woman who ran a small custom framing business in Seattle's Belltown neighborhood.  One of my favorite place to go on Saturday mornings was Molly's Seattle Custom Framing business.  Even when I wasn't having anything framed, I would drop by often.  We would talk, and her store was like a rotating art show to me.  She's very much a fan of Starbucks coffee too, and I often came with pounds of whole bean coffee in hand to visit Molly.  She was a one-man business, spending countless hours doing custom framing because she loved the work.  Her little business is gone, although as is obvious, she and I are still friends.  She ran into a lot of business problems this year – at one point she healed from a surgery while her shop was just completely closed.  Her lease came up for renewal and the owners of the building wouldn't renew it.  There is a lot that could be said about that, but that is what happened.  She has to re-start her business, and is looking at new locations.  She could really use seed money.  Molly has applied for a Chase Bank small business grant, but even before you can have initial eligibility, you have to be able to get 250 votes on this website:  Chase Main Street Grants.  To vote, you go to that Chase Bank website, and type in "Seattle Custom Framing."  She needs 55 more votes.
I am asking that you'll help my friend.  There isn't much I can do for Molly, but it would be nice, if I can at least help her get to 250 votes.  I asked already on the Facebook side of this blog, and many, many people did already vote.  The website tracks votes via Facebook profiles, so if you do not have a Facebook profile, you cannot vote. (And speaking of Facebook, the Facebook side of this blog is lively and interesting and so I hope you'll "like" it and then "like" the status updates that you do like.)
Thank you in advance for your help, and your vote for "Seattle Custom Framing."
Sorry for the personal stuff here.  I know you expect to just read about Starbucks and the Starbucks brands.
Related posts