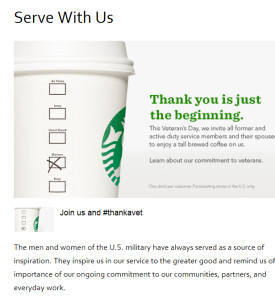 This Veteran's Day at Starbucks, all active duty military, veterans, and military spouses will enjoy a free tall cup of coffee.  Go to Starbucks.com/Veterans for more information.  In addition, Starbucks has announced that it plans to recruit more than 10,000 veterans into its work force over the next five years.
I personally feel the utmost respect and appreciation for those who have served.  We have a voluntary military.  Whether you joined the Air Force, Army, Marines, Coast Guard, or Navy, and served for two years or twenty, I thank you.
(My own experiences were in the Air Force, having served four years during a peaceful time.  These were my stripes.)
Thank you Starbucks for your Veteran's Day promotion and commitment to hiring veterans!
Related posts