Community Stores: Lakewood (Tacoma) Starbucks Giving to Operation GoodJobs, Benefiting Veterans.
Melody, November 11, 2013
5
3 min

read
A Starbucks "Community Store" is one that donates a portion of its profits to a local non-profit.  Currently, there are Community Stores in Harlem, New York; Los Angeles, California; Seattle, Washington; and Houston, Texas.  Starbucks plans to operate 50 Community Stores by the year 2018.  You can read more about the existing Community Stores here:  http://www.starbucks.com/responsibility/community/community-stores
The most recent Starbucks Community Store (located in Lakewood, Washington) will donate ten cents from every transaction to Operation GoodJobs, a Goodwill-operated non-profit designed to help veterans in finding jobs.  (At least as I write this, it looks like the Tacoma Goodwill hasn't update their page to include Starbucks as a funding source, but I assume that will happen.)
The Lakewood Community Starbucks is located very close to Joint Base Lewis – McChord, an area with a significant military presence.  That store has just had a major remodel, and it's a beautiful, large store with lots of seating.  I dropped by early this morning (November 10, 2013) and took a few photos.  Look how cute this store is!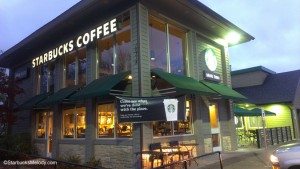 This store is located at 10314 South Tacoma Way, Lakewood, Washington, 98499.   The phone number is (253 – 984 – 0898)  One of my favorite little things about this store was this far corner of seating – it has a wall designed with words to describe how a coffee tastes!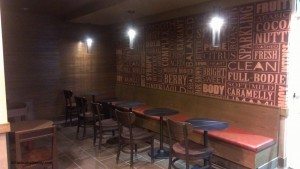 The original opening date of this store was March 18, 2004.  This recent major remodel expanded the space, and added 35 additional seats.  I've never been in this store before today, so I can't imagine what it was like as a much smaller space.  The store has lots of comfy seating, two community tables, and a drive-thru.  It has it all!  It's great that Lakewood has this store supporting the transitioning soldiers in the Lakewood – Tacoma community.  Here are a few more pictures that I took today:  (I wish I had taken some photos of the live-edge woodwork along the bar hand-off plane and the front bar area.  Trevor (a partner I met today) told me that the bar is made from fallen trees reclaimed from Thurston County, a nearby Washington State county.)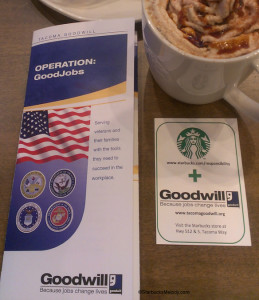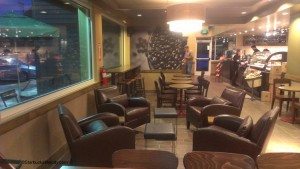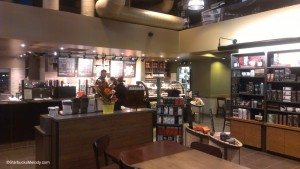 Out of the 50 planned Community Stores, five of them are intended to focus on non-profits benefiting U.S. veterans.  There is currently also a Community Starbucks located in San Antonio, Texas, which donates a portion of its proceeds to the non-profit Vested in Vets.  The San Antonio store is at 8227 State Highway 151, Westover Marketplace, San Antonio, Texas, 78245.  As many know, San Antonio is home to a number of military installations, including Lackland AFB, which all new Air Force recruits pass through for their basic training ("boot camp").
Hope you enjoyed your Veteran's Day article!
Just a reminder, today all active duty military, veterans, and military spouses can receive a free tall brewed coffee at Starbucks.  Starbucks would like to thank all who serve our country, and the impact they make around the world.  Go to Starbucks.com/careers/veterans for more information.
Related article on StarbucksMelody:  Starbucks offering free tall coffee to military, veterans, and spouses.
Related posts