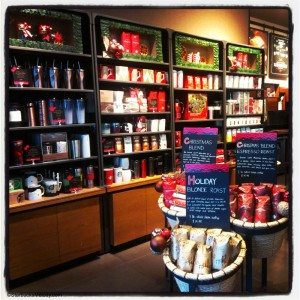 Starbucks holiday merchandise is now officially in stores!  On November 12, 2013, Starbucks transformed all their US stores, welcoming the holiday season with a "Share Joy" theme.  I thought I'd shine a spotlight on a little bit of the merchandise – this is by no means everything, and I think I will end up writing about food separately.  I took all of these photos on November 12, 2013, in Seattle's University Village Starbucks location.
There are several different little ornaments for sale for your tree! (Or your ornament collection.)  Five cities received tiny You Are Here style mugs as ornaments.  There is a standard red ornament, and a Swarovski ornament too.  The Swarovski holiday ornaments retails for $39.95 in the stores, though it will be hard to find.  It's possible your store only received a couple of them, and they're already sold out online at StarbucksStore.com.
This year's holiday bearista bear, as well as a ceramic mug, are designed by designer Stacey Bendet.  They are part of the "Alice and Olivia" design, and are already considered to be highly collectible.  These too will probably sell out quickly.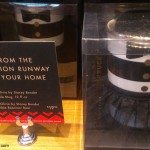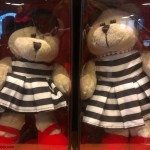 One thing that is new is that this year the Espresso Roast Christmas Blend comes in Verismo pods.  The regular Christmas Blend returns in whole bean form, Via Ready Brew, Verismo pods, and K cups.  There are cups with matching small serving plates this year.  I have heard that the plates will not be offered in all stores, but you can find them on StarbucksStore.com.  The little pastry plates come in a set of four, and retail for $29.95.  The matching mugs and pastry plates are labelled made in Germany.  There is a gift pack with a sampler series of Starbucks' coffees.  Each one has a cute little burlap sack, and a description of the coffee.  And of course, there area  variety of holiday mugs.
I will write about the holiday merchandise again, but I thought it would be fun to do a very quick overview of what you may find in your local store.  What catches your eye?
Related posts