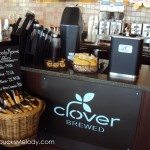 I'm slowly trying to write as many store reviews as possible about Starbucks locations with Clover brewers.  Next up, the Renton Village Starbucks, which is located just south of Seattle.  I dropped by this store recently (June 25, 2011), and decided to take a few pictures and check it out.  Here's the address to the this store:
Starbucks store #374
601 South Grady Way #E
Renton, WA
(425) 227 9262
I arrived at about 12:15 in the afternoon, and the store was pretty busy.  There was a steady flow of customers the entire time I was there, so I ended up not taking very many photos.  This store has had a Clover since August 2008, and seems to be a hub of activity for south King County.  It has been a long while since I visited this store.  I remember dropping by shortly after the Clover was installed just to see it, and so I think it has been a couple of years since my last visit.
The partners were friendly, and I noticed that they had a sign up featuring the "partner of the month."  I've always thought that was a nice touch for stores.  Great partners should get center stage!  The partner of the month was "Tracy."  Congrats Tracy!
While I was visiting, I noticed a father and son playing checkers and drinking some beverages, nearly the entire time I was there.  It would have been a very cute photo, however I didn't want to take a photo of them for obvious reasons.
For those who are interested, this store first opened brand new on March 11, 1995.  It's a great store now, but it is not one of the newer LEED-registered "repurposed materials" style store designs.  I wonder if this store will be getting a major remodel anytime soon.
Here are a few more pics of this store.  Feel free to weigh in!
Related posts