On Monday this week (12/16/13), I dropped by the 1912 Pike Place Starbucks on my way into work.  I recently bought a new camera, and had the chance to take some nicer quality photos than in the past.  It's amazing how beautiful 18 mega-pixels really is!  I just wanted to share a few of my favorite photos from that trip to 1912 Pike Place Starbucks:
If you look, you can see the clarity difference in the above 3 photos over when I've just taken photos with my phone in the past.
While I was there, I did use my phone to Instagram a picture of the bar barista making my beverage.  It was a perfect snapshot in time!  We were talking a little as she worked, and Yuri (the bar barista) smiled right at the right moment: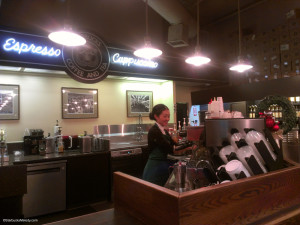 Yuri told me that she had been a 12-year Starbucks Japan partner before coming to Seattle, and that it was always her dream to work at this landmark Starbucks location.  She arrived in Seattle, and realized that she spoke too little English to work at a Starbucks, and so went to school and studied English diligently so that she could work for Starbucks!  She is an inspiration to all those at the 1912 Pike Place Starbucks!
Thanks for joining me on this quick Monday morning trip to Starbucks.
I hope you'll follow me on Instagram for a lot more photos of my Starbucks journey, Seattle photos, and a few random pictures.
Related posts