The Starbucks Card: 2001 – 2013 – Then and Now
Melody, December 20, 2013
11
2 min

read
On December 19, 2013, Starbucks customers activated a record 2.4 million Starbucks cards – just in that one single day.  Official Starbucks spokesperson Linda Mills confirmed for me that 2.4 million cards were activated.
I bet in 2001, when the Starbucks card was just in its baby beginnings, nobody thought about people activating 2.4 million cards in one single day.  In February 2001, the very first card was given to partners – shown to them as a prototype, original concept, and distributed to partners attending a leadership conference.  That 2001 card looked like this: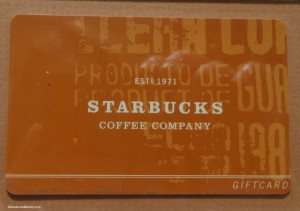 In November 2001, the Starbucks card was officially launched to the general public.  Between November 2001, and July 2002, Starbucks customers activated four million Starbucks cards.  The first card available to the general public was the "Snowflake" card that featured white snowflakes on a silver background.   This card came with a red holiday sleeve although when first loaded, if the customer put $100 or more on the card, they were given a special tin case.
Flashback for a moment to the original concept, prototype Starbucks cards: Deep inside the headquarters, six prototype cards (probably seen by very few outside of the headquarters) are framed on a wall.  Here are the 2001 original concept Starbucks cards: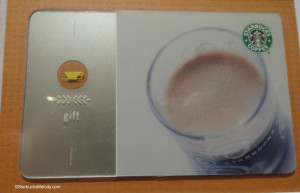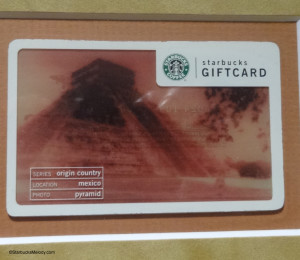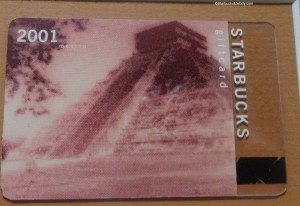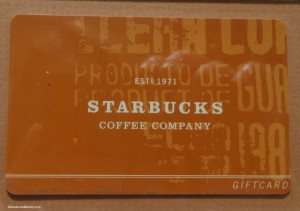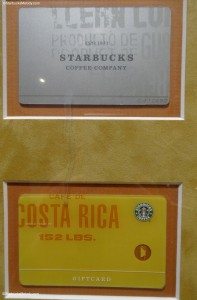 Now you've seen the original 2001 concept Starbucks cards!  If somehow you have one of those six cards, hold on to it.  It is precious.
(For Starbucks history, I used the BucksCards.com website as a reference – if you want to browse cards, it's the most complete catalog of cards that I know of.)
Flash forward twelve years, one of the more collectible current Starbucks cards is this rose metal card: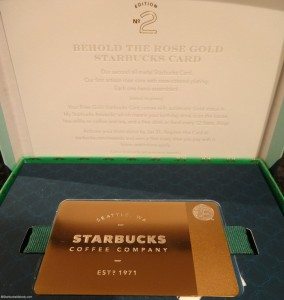 If you want one, your best bet is eBay.  I sort of think it's amazing to see the then and now of the Starbucks card.  If you like browsing through articles about Starbucks cards, I recommend reading the articles in the Starbucks card category of this site.
What do you think of the original concept cards? Should Starbucks resurrect one of those original six designs?
Related posts