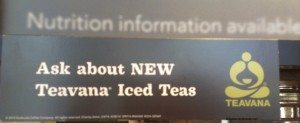 Be on the look out for new Teavana iced teas at your neighborhood Starbucks. The three standard Tazo teas – Green, Black, and Passion – are being replaced by Teavana teas. It's possible that your local store is not brewing the new Teavana teas yet, but eventually they will be. I believe that Starbucks has told stores to brew through their supply of the Tazo iced teas before switching to the Teavana iced teas.
You may see signs popping up at your neighborhood store that says, "Ask about NEW Teavana Iced Teas." That's a sign your store has the new iced teas available!
The previous green tea was Tazo Zen and is now Teavana Jade Citrus Mint. The previous herbal tea was Tazo Passion Tea and is now Teavana Passion Tango Tea. And the Tazo iced Black Tea is now a Teavana Black tea blend of three premium black teas.
I had thought that the iced tea change would be a big dramatic change in the flavor of the teas, but that isn't really the case. I've tried the new Passion Tango and it's just a little more tart than the previous Passion Tea but still absolutely delicious and flavorful. The new Green Tea has a little more minty flavor, in my opinion. I very rarely ordered the previous black tea, and I struggle to even figure out what the difference in flavor between the old and new black tea is. Perhaps someone who is more of an expert on the iced black tea at Starbucks can weigh in. I genuinely like all three of the new teas! I definitely think the new Green Tea is a big improvement over the last. I like how flavorful it is. Of course, what you like in tea is highly subjective. Do you like the new teas?
I ordered an iced Green Tea today, so here's what it looks like: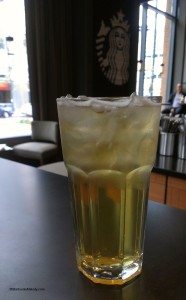 Hope you enjoyed this Teavana Iced Tea teaser! 😉
Related posts