Today was the annual Starbucks shareholder's meeting, held at 10:00 AM in McCaw Hall in Seattle. I thought I'd share my recap. I had a great time. One thing I thoroughly enjoy about the annual meeting is that it's a chance to say hello to many friendly faces whom I otherwise rarely get to see. There is a lot of socializing that goes on in the hallway area before the actual meeting starts and numerous Starbucks displays showing off products, beverages, and a chance to eat lots of food and order beverages too. I'll come back to that aspect of the meeting a little later.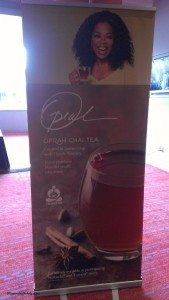 First off, the big news from today: the huge news was the announcement of a forthcoming tea called Oprah Chai Tea which will be available at both Starbucks stores and Teavana stores near Mother's Day this year. I'm nearly sure Howard said it would show up in stores a couple of weeks before Mother's Day. The proceeds from the new chai will go to benefit a small number of good-cause organizations aimed at improving the education and lives of children and young adults. Proceeds will benefit the Oprah Winfrey Leadership Foundation, Girls Inc., the US Dream Academy, and the National Cares Mentoring Foundation.
The Oprah Chai too will be an all new offering. Oprah helped work with Teavana tea blend masters to create a bold and spicy chai. There was a sample of the new tea in the goody bag that we got after the meeting. Also, Starbucks partners were sampling the new tea towards the end of the meeting so I did get to try it. I'm no Chai expert, but I did thoroughly enjoy it. We got to try it both sweetened and unsweetened.
I want to circle back to the part of the event where a shareholder can walk around, look at displays, and socialize with others. This is usually the hour or so before everyone goes into the auditorium for the actual meeting. I ran into one of my favorite store managers, Jesse, as well as two other friendly partners: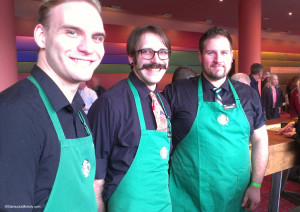 I ran into Amanda on the Clover and snapped a picture of her hard at work. This year the meeting was sampling the Reserve coffees Sun-Dried Ethiopia Yirgacheffe and Sumatra Blue Batak. My favorite of the two is definitely the Yirgacheffe. It was an interesting sight to see these coffees as green, unroasted beans. I liked that display.
Among the many displays that one could walk through, I saw this interesting sign. Who knew that Starbucks has sold over 10,000,000 La Boulange chocolate croissants! That's a lot of chocolate croissants!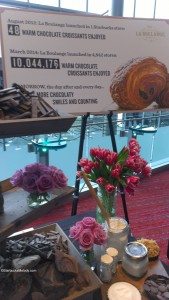 One of the displays in the halls focused on Starbucks commitment to hiring service veterans. During the meeting itself, Howard reiterated Starbucks commitment to service veterans. The meeting stopped for a moment and Howard asked all current or past military to stand up for a round of applause.  I had a twinge of an awkward feeling as I stood up. It was just a total surprise but there were quite a few service veterans in the room.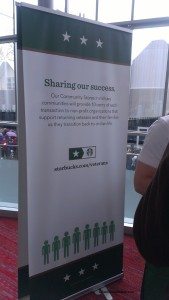 During the actual meeting itself, Howard talked about the success of the company during the past year. Starbucks now boasts more than 70,000,000 customers each week cycling through its doors and now operates in 64 countries. Starbucks recently opened its 40th store in India and its 1000th store in Japan. Howard emphasized that Starbucks cannot build long-term value for its shareholders without first building long-term value for its employees: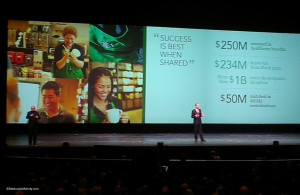 Starbucks executive Adam Brotman presented on the success of all things digital, including the enormous success of the Starbucks card. In the thirteen years since the Starbucks card was first introduced, more than 18 billion dollars has been loaded onto cards. This past holiday season, one in eight Americans received a Starbucks card as a gift. The Starbucks card has been launched in 28 countries where Starbucks operates, and in the U.S. the Starbucks card accounts for 35% of the U.S. tender.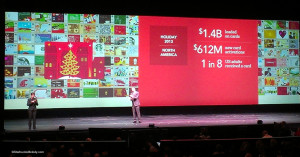 I watched most of the Q & A session at the very end of the meeting. One customer commented to Howard that he wanted gluten free food options in the pastry case. Howard replied that it is something that is still in testing but so far Starbucks has seen that while people say they want gluten free food options, it doesn't sell as well as Starbucks would like. Another customer questioned why there are not more "Made in the USA" mugs inside Starbucks stores. Howard's reply had a lot to do with scale. The Ohio mug manufacturing plant that Starbucks partners with simply doesn't have the capacity to produce enough for all mugs in all stores. One customer asked Howard to make a statement on Starbucks' position on Russia's invasion into Crimea. Howard declined the shareholder's invitation to make take a political position. As to be expected, Starbucks doesn't wish to be involved in international political tensions nor make statements about such things.
I'm looking forward to your thoughts from this 2014 Starbucks shareholder meeting roundup!
Related posts