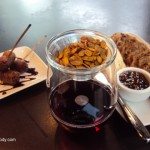 Starbucks has recently been in the news saying that they want to expand the number of Evenings Starbucks. If you don't know, an Evenings Starbucks offers beer and wine on the menu as well as elevated food items, such as truffle mac and cheese, or chocolate fondue. As I write this, I believe that there are roughly thirty Evenings Starbucks locations across the United States. In 2009, the first Starbucks-operated enterprises to offer beer and wine were Roy Street Coffee and Tea and 15th Avenue Coffee and Tea. Those two stores were part of the "Inspired by Starbucks" series of stores. In 2010, the East Olive Way Starbucks became the first traditional Starbucks to offer beer and wine.
This King 5 News article says that Starbucks hopes to expand their Evenings concepts stores to "several thousands."
I've been to every Seattle Evenings Starbucks, including the new University Village Starbucks. The Terry and Republican Evenings Starbucks is just beautiful. Sometimes people have this mental image that if Starbucks starts serving beer and wine it will turn into a place of swaggering Frappuccino addicts slurring their speech and ordering yet another wine. This is not the case. At least in Seattle, most coffee houses offer beer and wine. It's a casual place to have conversation over a glass of wine. What do you think of this planned expansion of Evenings stores?
Recently, I dropped by the Kirkland, Washington Evenings Starbucks, and took a few photos. The store manager Stephanie, is amazing. She was a Starbucks store manager in Australia at one time! She can make you a wonderful flat white, if you want. The Kirkland Starbucks is located in the Juanita neighborhood and has been there since September 18, 1993. It converted to an Evenings store about six months ago, and offers Clover-brewed Reserve coffees too:
Kirkland Evenings Starbucks
9721 NE 119th Way
Juanita Village
Kirkland, WA 98034
Enjoy!
Related posts