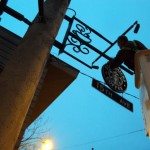 Goodbye 15th Avenue Coffee and Tea.  Welcome home Starbucks Coffee.  The coffeehouse formerly known as 15th Avenue Coffee and Tea, and which was the first of the two "street level" experimental stores operated by Starbucks, will now officially become a logoed Starbucks.  This change will happen on January 31, 2011, with the official introduction of the 15th Avenue Starbucks on February 1, 2011.  The experiment that began July 18, 2009, ends Febuary 1, 2011.
At 7:00 a.m, this morning (January 24, 2011) I arrived at 15th Avenue Coffee just to check in and say "hi" and to see if any of the transformation was already underway.  Lo and behold, the Siren was already hanging up outside.  I attempted to take a few photos, but it was still dark outside, and with my weak flash, the photos are still poor quality.  All those early morning photos are too dark.
A funny thing happened while I was visiting the store:
I went inside after taking some pictures, and then ordered food, coffee, and chatted with two of my favorite baristas.  Lucky for me, they were both there.  My timing was really remarkable this morning that I arrived so early.  The sun had barely risen (per a Google search, sunrise today was 7:44 a.m.) and a bucket-truck swung by and parked directly in front of the store.  I hustled outside to see what was going on.  There was a worker in a bucket removing the Siren from the exterior sign.  I asked him about it, yelling up to him, and he said something to the effect of 'the logo had accidentally gone up too early and had to be removed until the 31st.'  Next thing I knew, the logo was gone.  I hadn't been by this store in nearly two weeks, and I happened to catch a worker removing an accidentally installed Siren.
What is happening and what does it all mean?
I have been trying to figure out with some detail what these changes will really mean.  Will the menu look different?  What will stay the same?  I know the store is getting a "turbo chef" (warming oven) so that it can do warming similar to a typical Starbucks.  I am nearly sure that the store will keep their manual machine – which is now a Neuvo Simonelli espresso machine.  My understanding is that most of the Essential Bakery items are staying though some changes in food will happen.  Since the re-introduced Starbucks at this location will now mimic some elements of Olive Way, it wouldn't surprise me to see the food slowly become much more closely aligned to the Olive Way food offerings.  (Olive Way offers very traditional Starbucks food with only a few variations for "plated" foods that have chips, olives, or other items not sold at a normal Starbucks).  There will still be a beer and wine selection.
Imitation is the best form of flattery:  It appears to me that Starbucks learned a lot from 15th Avenue Coffee and Tea.  The pour over launched in March 2010 was partly developed from the learning experiences at 15th Avenue Coffee and Tea.  Though not widely talked about, Starbucks experimented with cold brew coffee in the summer at 15th Avenue Coffee, as well as the "Pu-erh Fusion Cappuccino" (pu-erh tea, agave nectar, espresso, steamed milk and cocoa powder).  Interestingly, the Pu-erh Fusion Cappuccino was never a big seller, and I don't think I ever got around to trying it, but it was briefly on the menu at some point.
In many ways, Olive Way Starbucks imitated aspects of 15th Avenue Coffee and Tea:  Very personable service, relaxed pace, lots of great coffees, beer and wine, and a "repurposed" green store design.  Olive Way has been a success:  The store is always busy and they've given it a very classy Starbucks atmosphere.  Partners wear an "elevated" dress code which means a dressier attire, with ties being the norm for men.  This change of 15th Avenue Coffee and Tea to a Starbucks means that the store has found its long lost sister:  Olive Way, and is slightly distancing itself from Roy Street.  I would note that both Olive Way and 15th Avenue Coffee were Starbucks stores before they were concept stores.  They are both smaller than Roy Street, which feels like you've walked into a massive theater.
The one thing that I hope does not change at 15th Avenue Coffee and Tea is the coffee passion.  I don't know if there will still be coffee cuppings.  The selection of coffee offerings is larger than a normal Starbucks.  I started my day today with 100% Kona from the Clover at 15th Avenue Coffee and Tea.  And going back to the food selections, I like the unique choices.  Who wouldn't like to start their day with a chocolate peanut butter donut from Mighty O Donuts?
I have written about 15th Avenue Coffee and Tea numerous times on this blog.  Here are just a few of the past articles about this store:
Mostly I just wanted to post a few more photos of this store, and share my visit today.  This will still be a wonderful store.  We all know what makes a Starbucks great:  It's the partners inside.  Hope you enjoy!
Related posts