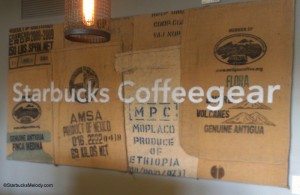 I dropped by the Starbucks Coffee Gear store on April 1, 2014. It's been several months since I've written about it. This is the store where customers can buy logo t-shirts, keychains, infant bibs, pins, mousepads, and much more. The merchandise at the Coffee Gear Store rotates often, so I check back in now and then to see what's new.
If you're a Starbucks partner, you can go purchase Coffee Gear merchandise through their website. If you're a customer, you can visit the one physical location of the Starbucks Coffee Gear store: 2401 Utah Avenue South, 8th Floor, Seattle, WA 98134. The actual store is open Monday through Friday from 8:30 to 4:30 p.m and it is open to the public. Just go to the Starbucks headquarters and take the elevators to the 8th floor. You'll see their front entrance to your right off the elevators. Partners receive their discount when shopping at the actual Coffee Gear store location.
You can browse past articles on the Coffee Gear Store here.
The thing that really caught my eye during this visit was the new iPhone case. I have an Android phone, but if I used an iPhone, I'd love to have a case like this: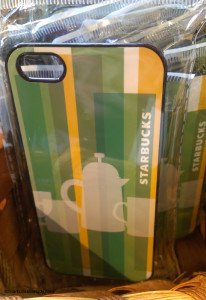 If you're in Seattle, this a must-visit Starbucks stop, along with 1912 Pike Place Starbucks, Roy Street Coffee and Tea, and a few other unique sights. I wrote this article about one year ago, but it still have some good Starbucks-vacation tips in it: The Top Ten Starbucks vacation sights in Seattle. (In that article: The Tazo Tea store is now a Teavana store, which is absolutely worth visiting too.)
Enjoy a few more photos from this trip to the Coffee Gear Store! I only took a few pictures of what's available. If you go visit, you'll find a lot more than what's shown below.
's
Related posts