Just a  quick update on new merchandise at the Starbucks Coffee Gear store:
Today (February 20, 2012) I dropped by the Starbucks Coffee Gear store at the headquarters to see what was new.  It's only been about one month since I was last there, but as my readers know, I genuinely enjoy logo merchandise, and so I visit whenever I get the chance.  I blogged about my last visit to this store here:
What's New At The Coffee Gear Store – January 2012
It wasn't until I got to the coffee gear store that I realized that I had completely forgotten my camera.  I did have my phone with me, and so I took a few pictures, but my apologies that the quality of the pics aren't as good as usual.
These logo coasters were one of the first things to catch my eye: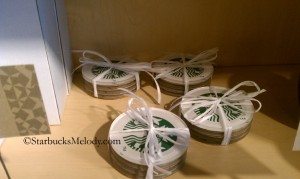 Those are a very cute idea!  I think they would sell well in the stores too.  In fact, I definitely remember that coasters were a regular item for sale in the stores in years past.
Another thing that caught my eye is the new insulated grocery tote.  It's something you could take to the grocery store to place your cold goods in or use for a picnic. Here's a picture of it: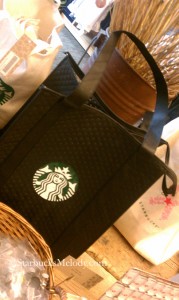 There are always a variety of t-shirts at the coffee gear store, including the standard black polos that baristas wear in the stores.  I noticed that the store is now offering a seasonal St. Patrick's Day shirt!  Sorry the photo isn't so great.   I know I mentioned this earlier, but I had only my phone with me: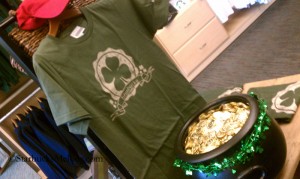 I only took a couple other photos.  I bought a passport holder for myself while I was there today.  I thought I might put my real passport (not my coffee passport) inside it –  it's not a new item, but I definitely like it.  So here are the rest of the photos:
Just as a reminder, the coffee gear is located inside the Starbucks headquarters.  It operates normal business hours, Monday through Friday.  It is not open on the weekends, and it's closed on holidays.  Here's the address:
Starbucks Coffee Gear Store
Starbucks Headquarters
2401 Utah Avenue South – 8th Floor
Seattle, WA 98134
Recently, I received an email where a reader asked me if the a person could pay with a Starbucks card at the Coffee Gear store.  I double checked on that today, and the answer is that a Starbucks card is not an acceptable form of payment at this time.  John, the store manager, said that it's a functionality that they are looking to add to their registers at some point, but at least right now, you can't pay with a Starbucks card.  If you are a partner, you can get your partner discount on the merchandise in this store.
If you are a customer and you want this unusual merchandise, you need a trip to Seattle!  If you are a partner, you can also find this merchandise online at the online Coffee Gear store.
The FTC requires disclosure of any product or consideration in conjunction with any blog article.  Today, when I walked into the store, John immediately recognized me.  As I was looking around, he (and a co-worker of his) quickly put together a small gift bag for me!  I was quite flattered.  He had a few Starbucks t-shirts (not featured in this article) that were mislabeled when it comes to size (and thus could not be sold), and so he gave a me a t-shirt, and a couple of keychains (not featured) that had the old logo on them, and a few pens (not featured).  So in other words, "Starbucks has provided some promotional consideration."   I don't think John really intended that I would write a blog post because he gave me a t-shirt, but I want to make extra certain that I comply with full disclosure.  Each time I receive product in conjunction with a blog post, you'll see this disclosure.
On a separate topic, as I mentioned above, I received an email about whether the Starbucks Card was a valid form of payment at this store.  This blog definitely generates some email, and I don't answer all the emails that I receive.  I tried to clean up the blog to make it extra clear that I do not work for Starbucks, and so I added a statement that I am not Customer Service in the side column.  I think that has helped some, and slowed down customer service related emails being sent to me.   A number of the emails have repeat topics in them.  So just as a reminder, if you want to work for Starbucks, please follow @StarbucksJobs on twitter and/or check out their career center online.  If you want to buy  any kind of Starbucks merchandise, including city mugs or any kind of mugs, tumblers, or merchandise items, eBay is still probably your best bet.  And if for some reason you have had an experience in the store that was not to your satisfaction, your best bet is to contact Starbucks Customer Service.
For those who are reading my Seattle's Best blog, I wrote a very short article about Seattle's Best merchandise at the Coffee Gear store:  Seattle's Best merchandise at the Starbucks coffee gear store.
Thanks for reading and hope you enjoyed this quick update!

Related posts