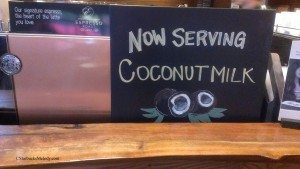 Starbucks is currently testing Coconut Milk as an alternative milk option. Portland, Oregon customers and Cleveland, Ohio customers will likely find coconut milk available as an option for the beverages, whether hot or cold. The charge for coconut milk is the same as whatever your local soy upcharge is. (Prices can vary a little from region to region). For most people, this will mean a sixty cent upcharge to order a coconut milk beverage.
This is actually the second round of Starbucks testing coconut milk. About six months ago. Starbucks did a very small test of coconut milk in San Diego, California and Everett, Washington. The fact that the test has expanded to a larger area is very promising!
I had the chance to try the coconut milk at a Starbucks in Portland. I should make it clear, I don't normally order (or drink) any non dairy milks, and don't even find myself enticed by soy, almond, or coconut milk. I completely understand that lots of people want (or need) to drink a non-dairy milk, but I'm not in that group of customers. I wouldn't order a coconut milk latte twice. It's watery and it's hard to foam to beautiful foam. For some reason, it comes out a lot more bubbly. Several partners in the Portland store I visited mentioned that the coconut milk has been very popular in Frappuccinos – I tried that too and liked it much better than in a latte.
The current coconut milk test is slated to end September 1, 2014.
If you enjoy reading about various Starbucks test beverages and products, click through this category here. Please keep in mind, Starbucks tests many more things than actually make it to a national launch.
(Edit on September 4, 2014: Coconut milk continues to be offered in select cities. The test has performed well enough that Starbucks extended it at least through this fall and winter seasons.)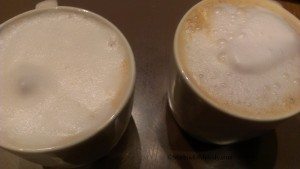 Related posts