I thought it would be fun to talk about the things that have come my way via reader email.  Thank you for writing me!
Here's a roundup of great tidbits from my mailbag.  (Write to me using the Contact Me form.)
1.  CRANBERRY WHITE MOCHA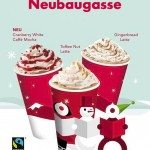 I have to admit, I am very curious about this beverage.  From what I've heard, this launched as a "test" item in a small number of U.S. cities, and it's an international holiday beverage in some international markets.  A reader in Austria emailed me, and mentioned that his store has the Cranberry White Mocha.  It's even pictured right now on the homepage of Starbucks Austria.  You can see it here: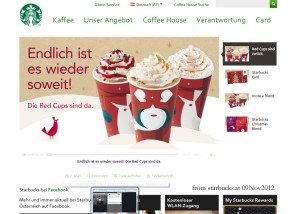 I'd love to know if any of my readers of tried this.  Through Twitter, I've been trying to figure out where exactly this is.  After reading a number of tweets, it seemed to me that the Cranberry White Mocha is a current seasonal beverage in Starbucks stores in Mexico, Thailand, France, the Netherlands, Austria, and Germany.  I found tweets like this one here from Thailand, which seemed to suggest that this beverage has a lot of fans!  I've heard that this will be a "test" item in a few stores in a few U.S. cities.  (Possibly a few districts in Portland, Oregon; a few stores in Vancouver, Washington; a few stores in Houston, San Jose, and possibly a few isolated districts in New York.)  Please weigh in if you've tried this drink!
2. DENVER GETS A SHIPPING CONTAINER CONCEPT STORE:
About one year ago, Starbucks opened up their first drive-thru concept shipping container store just south of Seattle.  A second store made of re-purposed shipping containers was opened in on September 30, 2012, in Northglenn, Colorado, near Denver.  The Denver-area store builds on the idea of using recycled materials and a small design to make a LEED certified Starbucks.
There are some lovely photos of the new Denver concept Starbucks here.  One really interesting thing about the store is that the wood siding is reclaimed snow fencing from Wyoming!
A reader sent in her photos – My apologies that they're a bit small!  But you can still see it's a unique and pretty Starbucks!  I hope to do a follow-up article at some point, perhaps with updated photographs.  Also, I recall hearing that there could be a third "shipping container" Starbucks in Houston, Texas.
3.  BARISTA CHALKBOARD ART:
One reader emailed me with a photo of a chalkboard that he did for the Create Jobs for USA promotion.  I'm always happy to share barista art.  I maintain it's a great way for stores to add a little of their own personality to their store: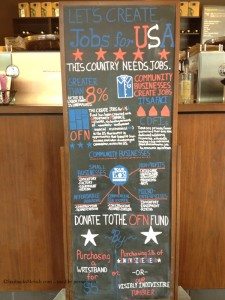 *******
By the way, the winners from the giveaway were Meredith, Lena, and Sheila!  Please email me!
Thanks!
Related posts