Starbucks Experiments with Digital Menuboards
Melody, March 14, 2010
38
1 min

read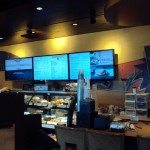 I just stumbled upon a store with digital menu boards at a Starbucks.  What an eye-grabber! It is 3 LCD panels, with one panel fixed with hot beverage menu.  The center LCD piece stays fixed and lists the hot beverages, and all espresso beverages.  The far left piece slowly fades through a variety of promotional signage, such as the Yukon signage, "something bold is brewing" promotion, and Pike Place Roast signage.  The far right LCD piece is visually split into two segments. The segment nearest to the hot espresso menu is an extension of the menu, and it lists all the cold beverages.  The other half of this far left menu board slowly rotates through promotional signage for things like the dark cherry mocha, breakfast sandwiches, and the like.
It's beautiful to see and somehow easier to read than the menu boards that I normally see.  In King County (the county where Seattle is) there is a local ordinance requiring calorie information on menu boards.  As a result of this, all the Seattle Starbucks menu boards just end up looking cluttered with too much information squeezed into precious space.  I realize that many people want to see calorie information on a menu board, but I am not a big fan of it.  I may hold the minority position on that topic.
What do you think? Do you like it? I give this two thumbs up.
Related posts