Beginning in February this year, Starbucks began testing ice cream combined with espresso or cold brew in 100 of their Orange County, California, Starbucks locations. It's now May and the test is winding down, but you can still find ice cream in many Orange County locations.
In June 2016, the Starbucks Reserve Roastery launched the ice cream drinks with Mora ice cream:
Cold Brew Malt and Float at the Roastery
If you're at a Starbucks in Orange County that has ice cream, you might find this sign. (You may have to ask for it too.)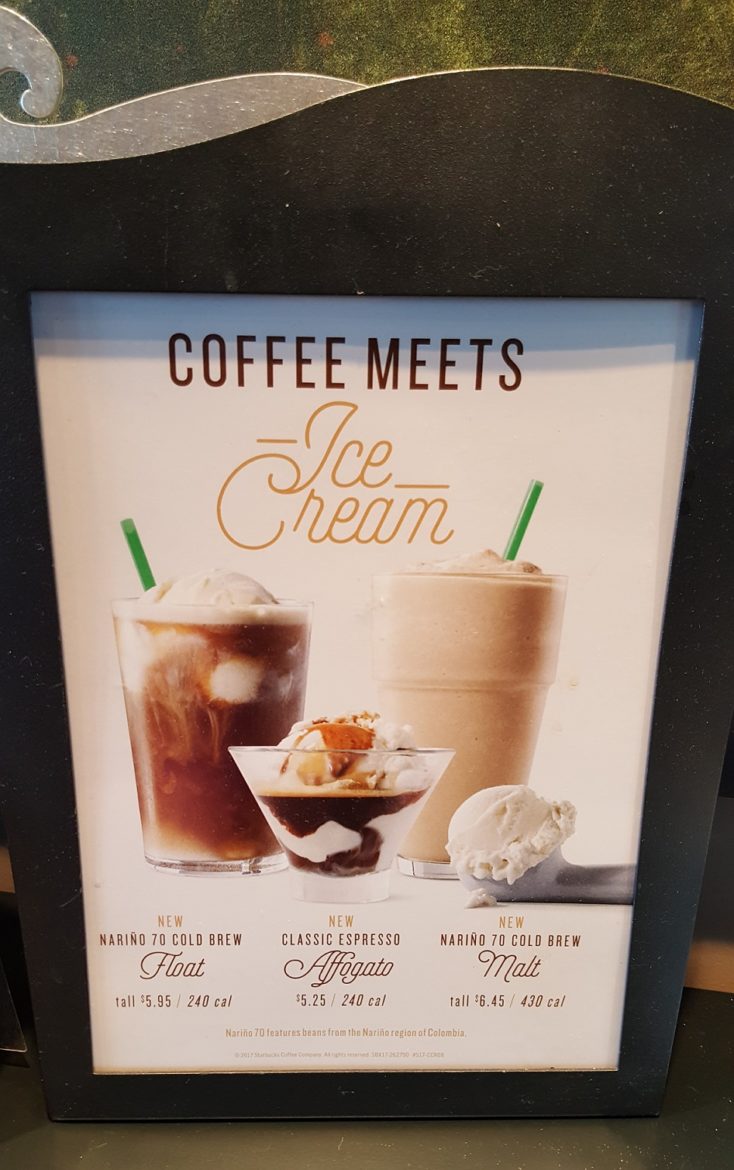 I decided to try all 3 so you can see what it looks like at a core Starbucks store, not the Roastery. You can use a Starbucks reward on all of these ice cream treats!
The Cold Brew Malt: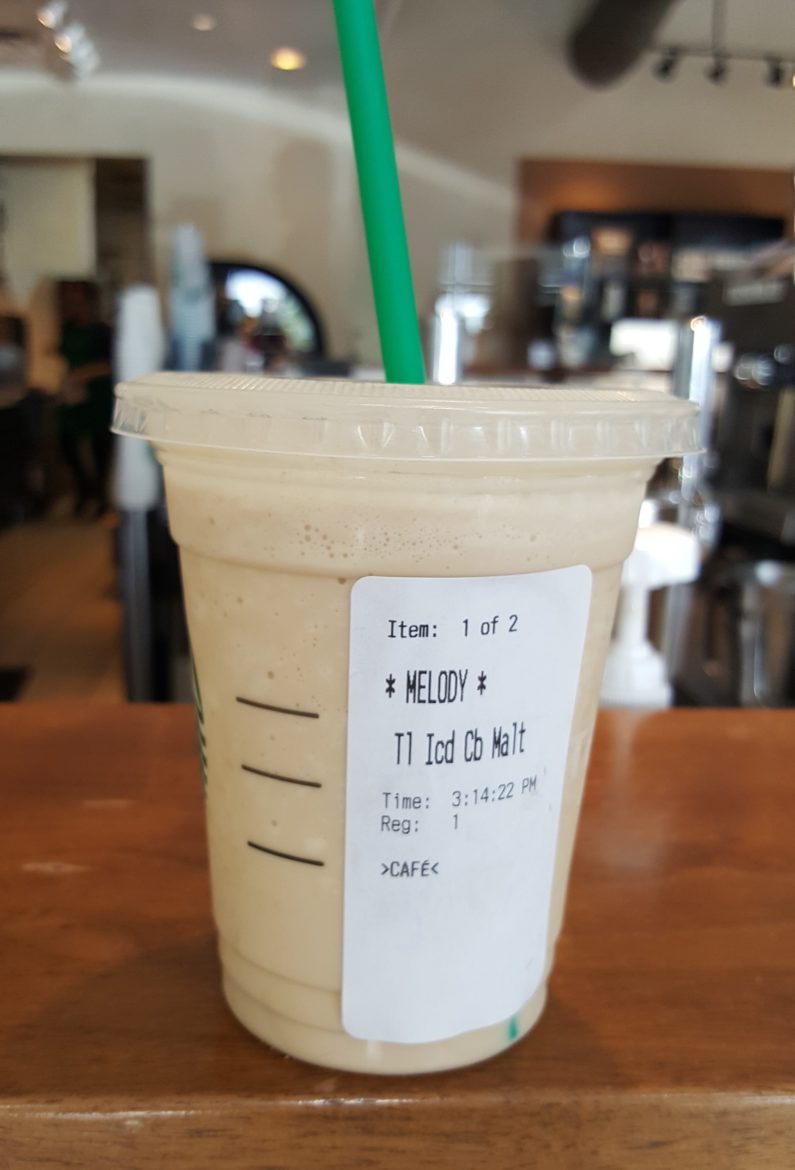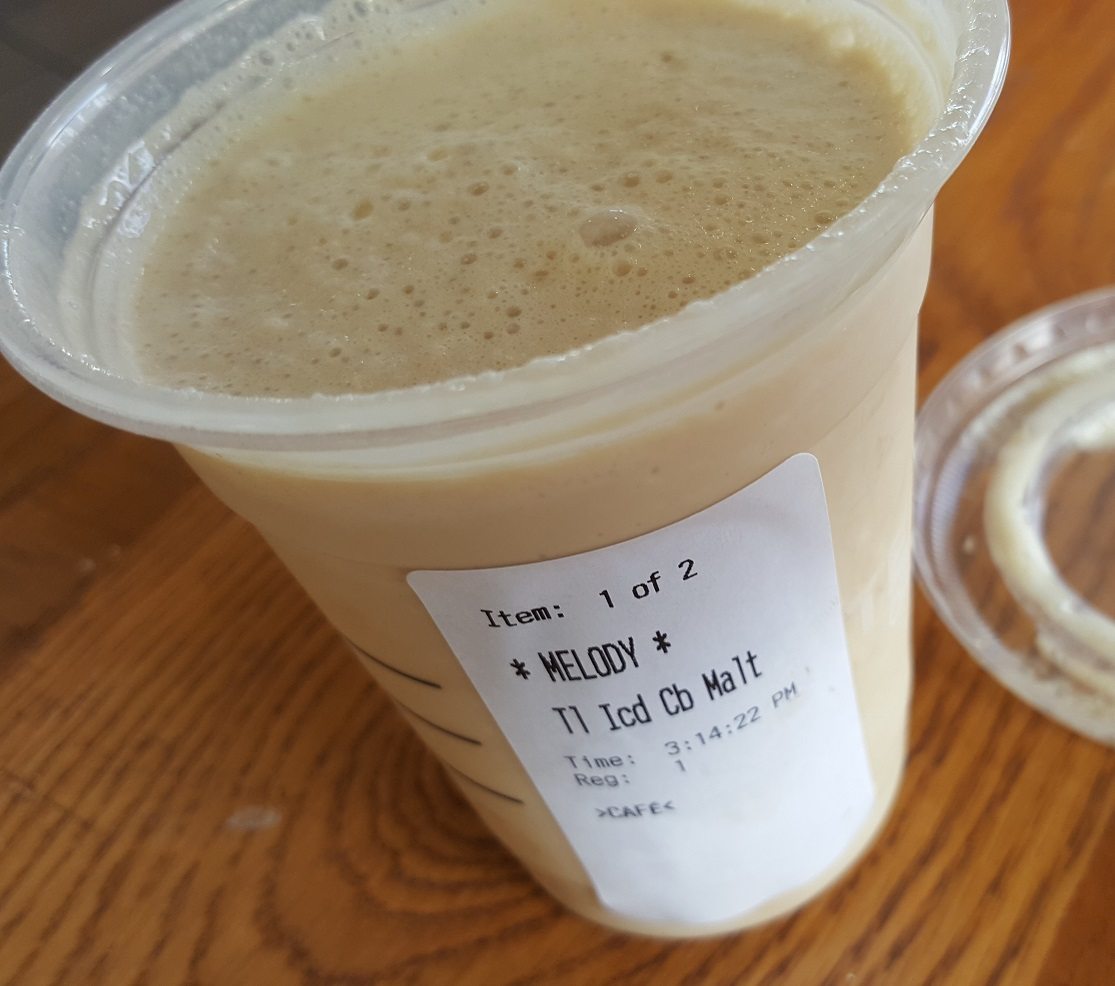 My cold brew malt was a little thin. I think a lot of people expect an ice cream shake to be thick but this was pretty thin. You can easily drink it with a straw. I'm not sure if it is designed to thin.
It's good but the cold brew blended with Mora's ice cream does not give you a strong coffee flavor.
I think I've heard partners say that this is the most popular of these 3 ice cream drinks.
Next up is the Cold Brew Float: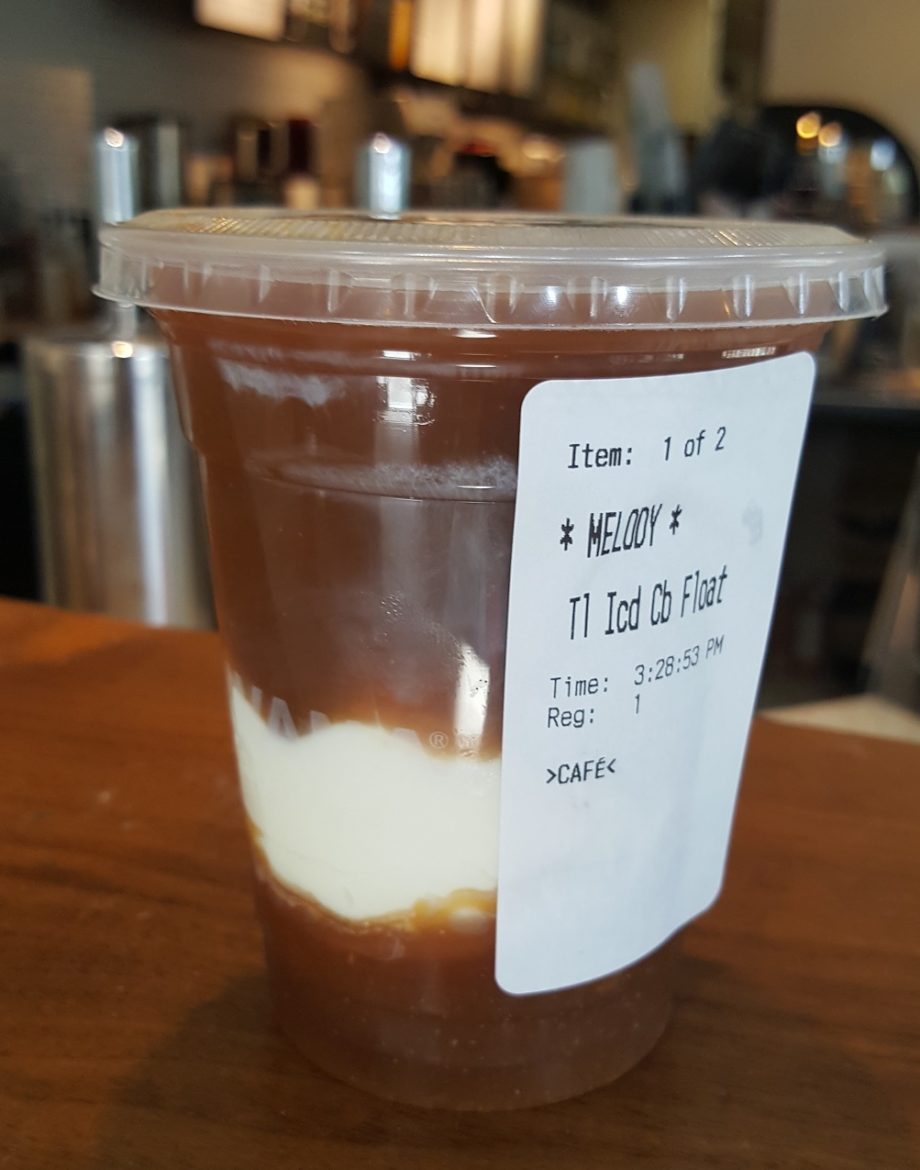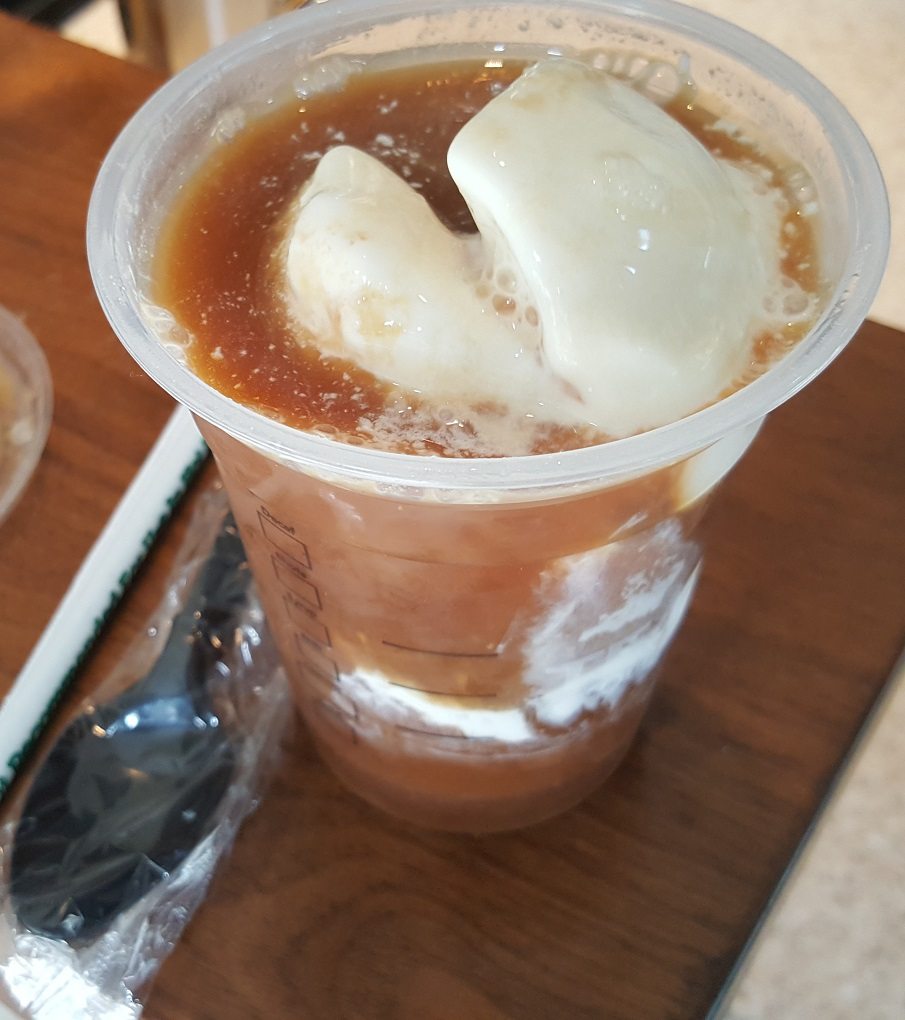 The cold brew float was served with both a standard green Starbucks straw as well as a spoon. This is fun because you get more cold brew flavor. You definitely know when you're drinking cold brew.
I think this one could be a little difficult on the go, depending on what you're doing. Most Starbucks beverages you just stick a straw in and enjoy and there's no need for a spoon. In other words, the overwhelming majority of Starbucks drinks can be enjoyed with one hand.
Last up, Mora's Ice Cream with Espresso: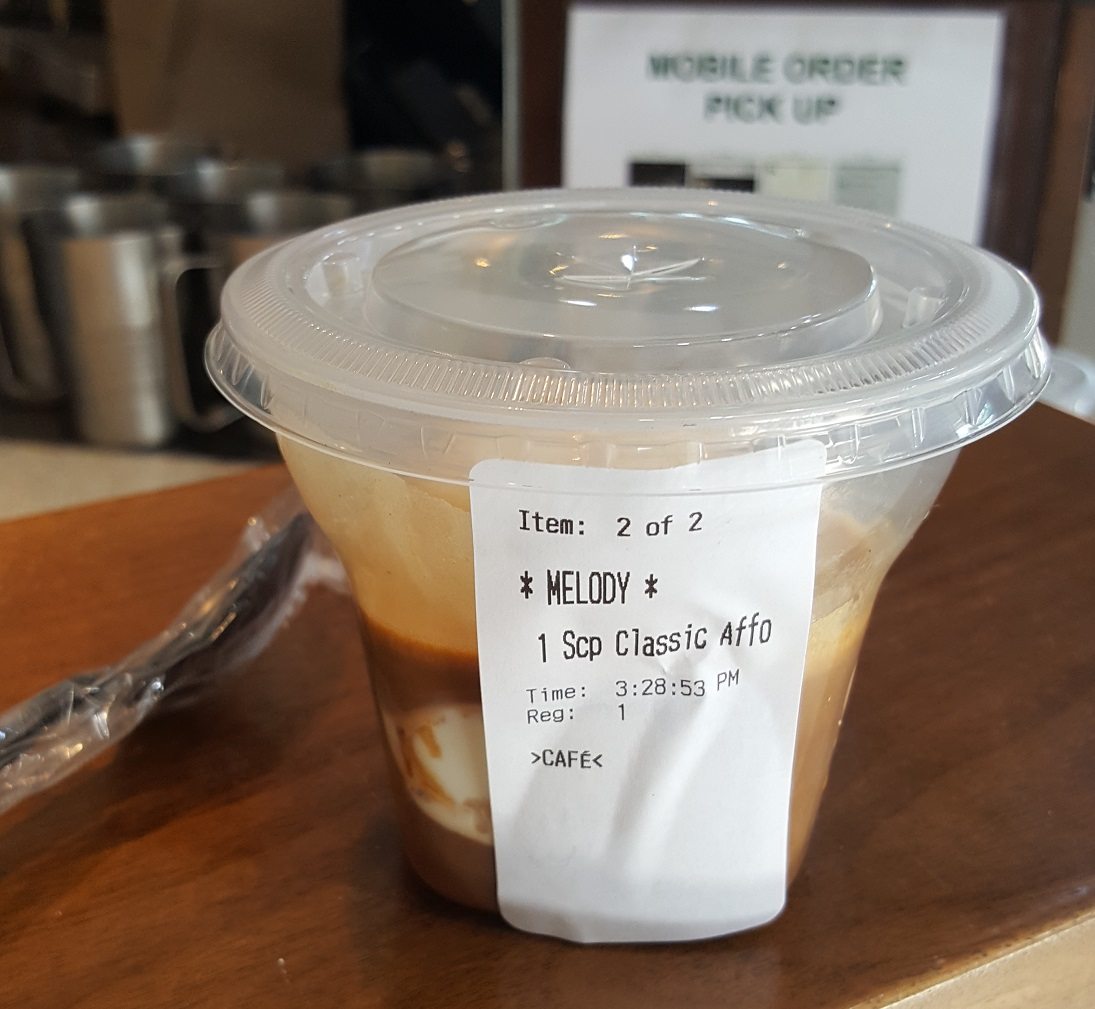 I like this one too. Well, actually I really like the Mora's ice cream. So all of these are fun treats, but all are sweet treats.
PROMO:   May 18, 2017, through May 28, 2017, buy any of the above ice cream creations for just $4 after 2 PM.
By the way, you will find the Roastery-inspired ice cream creations at the Starbucks "Reserve Bars" too. Starbucks operates what is really a hierarchy of stores:
The Starbucks Reserve Roastery:  Right now there is only one Roastery. It's in Seattle located at 1124 Pike Street. A Roastery is a place that has actual coffee roasting operation, not just an array of brewing equipment and coffee options. At the Roastery, you can watch green coffee be loaded into the Green Coffee Loading Pit, and and watch it come out of the roaster, freshly roasted. Starbucks has announced that there are other Roasteries in development, such as in New York, Shanghai, Milan, and Chicago.
The Starbucks Reserve Store: As I write this, there is no such thing as a Starbucks Reserve Store … yet. Despite this, partners erroneously tell other partners or customers, 'I work at a Reserve store' all the time.  Right now, a Reserve store does not exist, despite the many partners who say they work at one. In the eyes of Starbucks, a Reserve store will be a larger space, offer food items made by Princi, offer all Reserve coffees (and no core coffees) and will have Roastery-inspired beverages and brewing methods. In March this year, Starbucks announced that the first "Reserve Store" will be at the Starbucks headquarters.
The Starbucks Reserve Bar:  A Starbucks Reserve Bar is a hybrid creation. It has some elements of a core store, such as core coffees, and has some Roastery-inspired elements. A Reserve Bar offers standard Starbucks foods and familiar favorite beverages, like Frappuccinos. In Seattle, right now there is only one Reserve Bar and it is at First and University. You'll find these ice cream drinks at Reserve Bars. There aren't very many Reserve Bars right now.
The core Starbucks store offering Reserve coffees:  These are the many existing Starbucks locations where you can enjoy Reserve coffee inside a Starbucks store. They offering Reserve coffees, but do not have the same variety of brew methods that a Reserve bar has, and does not have the Roastery-inspired beverages, like the ice cream drinks in this story.
The core Starbucks store:  These are the many, many Starbucks stores all over the world that offer classic Starbucks favorites like the Caramel Macchiato, Flat White, and Frappuccinos, but do not offer Reserve coffees.
If you work for Starbucks, it would be good to understand the above hierarchy. I've had partners argue with me that they work at a Reserve store now and nearly come unglued when I say that there are no Reserve stores yet. It's a change from the way Starbucks used to call stores, and generally speaking this above hierarchy is not well understood.
(There is a slightly more mobile-friendly version of this same article here.)
Related posts