The little tiny food test that came and went at Starbucks
Melody, December 26, 2009
18
1 min

read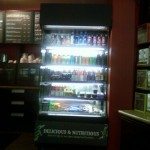 For a few months in 2009, three Seattle area Starbucks tested some alternate food items at their stores. This was such a tiny food test it really almost is not worth mentioning on this blog.  It was only 3 stores, and a few short months late summer to fall 2009.  The test is over, and I already miss buying Rachel's yogurt at Starbucks.  The few test stores in this test had a tall unique cold case filled with a few alternate food and beverage options.  Included in the cold case were things like hard boiled eggs in packs of two, carrots with ranch dressing, string cheese, hummus and chips, Izze's soda in cans, and Rachel's organic yogurt.
I have to assume that the purpose of the test was just a short experiment at looking at what other food items might sell at a Starbucks…
Of all the things listed, I freakin' loved the Rachel's yogurt. It was enough to bring me back to the test cold case over and over again.  Starbucks, would you pretty please put Rachel's yogurt in all your stores?? 😉
Related posts
Socialize

Subscribe
Join the StarbucksMelody.com mailing list to receive a weekly email with new posts.