Starbucks Testing New Lunch Sandwiches. (Grilled cheese coming soon everywhere).
Melody, June 10, 2014
21
2 min

read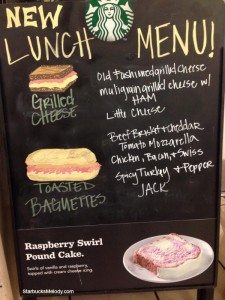 Starbucks wants you to swing by for lunch. In order to entice lunch-goers, Starbucks is testing out several new sandwiches in roughly 178 stores, between two cities. If you're in Phoenix, Arizona, or Richmond, Virginia, you might find these new lunch options.
This Bloomberg news article does a thorough job of covering this lunch test, and lists new items and prices. It mentions that Starbucks hopes to launch new lunch sandwiches nationwide by 2015.
In late March, the test began in Phoenix and has been extended through the summer. Richmond starting testing these items in May. A StarbucksMelody reader sent me a few pictures of the lunch items. I was pretty touched that there was a beef brisket sandwich with my name on it just waiting for me to pick it up in Phoenix! I sure hope someone else got to enjoy it! 😉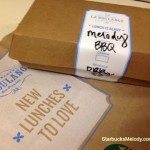 Notice that the lunch test includes a variety of sauces as options too – pesto and ketchup! The menu says they're complimentary with "any warmed sandwich." Now and then, I'll see idea threads on MyStarbucksIdea.com request ketchup for breakfast sandwiches. This test gives Starbucks the chance to track ketchup use too (assuming that baristas are entering ketchup in the register every single time so that Starbucks can really track which sandwiches customers want to put ketchup on).
This lunch test includes the "Old-Fashioned Grilled Cheese" sandwich which has been a popular item, so I hear. The Old-Fashioned Grilled Cheese Sandwich is scheduled for national launch on June 24, 2014. It's white cheddar, yellow cheddar, and mozzarella  on multi-grain toast.
Here are just a few more photos: What sounds good to you?
Related posts