Today is Friday the 13th. It's a day of bad luck. I'm really hoping for some good luck today! And, one thing that's unusual about today is that there will be a full moon. According to this news story, there won't be another Friday the 13th with a full moon until 2049!
And what's even more fun, is that this marks exactly one month since my official book launch day in May. When I add it all up, I'm pretty sure that Friday, June 13th, full moon evening, means that you should be staying at home, quietly reading a book under your covers, and avoiding all possible bad luck.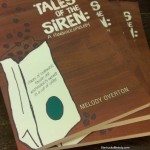 To celebrate one month of Tales of the Siren: A StarbucksMelody being available, you can buy the Kindle version or Nook version for 99 cents. I'll keep the sale price through the weekend. You may want to spend three days under the bed covers, surrounded by books and your Kindle or other reading device. I'm pretty sure that even Oprah is reading Tales of the Siren: A StarbucksMelody! 😉
So grab some Oprah Chai for home (I love it iced), and read Tales of the Siren. This book is intended to be fun and inspiring. You'll get a few scenes with Starbucks senior leadership as Cliff Burrows joins in community service events like planting tree seedlings and picking up litter. The book is the customer experience of what makes Starbucks unique and special, and as Howard Schultz is famous for saying things like Starbucks is serving "a great cup of coffee" while building "a company with soul." Early readers of Tales of the Siren: A StarbucksMelody have been effusive. I've been told that it's "inspiring" and that they laughed out loud at some of the scenes and appreciated the humanizing look at leadership.
There's more.
Because of all the bad luck you're going to avoid this weekend, you'll need a lot more than just one book to read. After all, you might need to spend three days not leaving your house, given how rare this special occasion is of a full moon and a Friday the 13th. It would be only fitting if you picked up a book that involves some witches, devils, humans, and romance. I'm referring to the series of books written by Patricia Eddy (my editor on Tales of the Siren).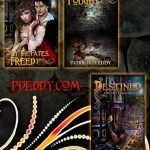 Patricia Eddy has written By the Fates, Freed; Destined by the Fates; and By the Fates, Fought. The three books are a series, and I'm pretty sure she intends you start with By the Fates, Freed. However, I read Destined by the Fates first, and loved it. That's a shorter length novel and tells the story of a witch and a human (both are women), destined to love each other, and the struggle as they awaken to their relationship in a world of witchcraft, devils, and the "mind-mage" where your thoughts can be stolen! If that isn't Friday the 13th, full moon reading, I don't know what is. Of course, once you've finished reading Tales of the Siren: A StarbucksMelody, and you want something that's much saucier, Patricia Eddy has written In His Silks. This comes with a huge warning. In His Silks is not G rated. Pretty much everything on this blog depends to rated G, for general audience. The By the Fates series do have sexual themes and might be PG-13 or R! But In His Silks, well, that's in the same category as the well-known book, Fifty Shades of Gray. Eeek!
This should keep you busy. Look for Tales of the Siren: A StarbucksMelody in Kindle format or Nook format for just 99 cents June 13th through 15th.
If you enjoy the Kindle version of the book, you may still want the paperback too. I know people who have a small shelf of Starbucks books including Pour Your Heart Into It, Onward, It's Not About the Coffee, The Starbucks Experience, Leading the Starbucks Way, and now Tales of the Siren!
Related posts