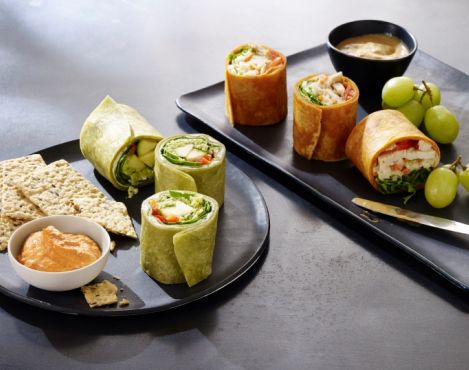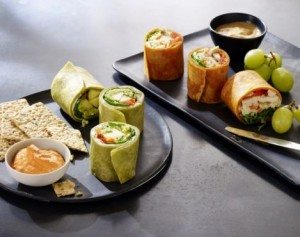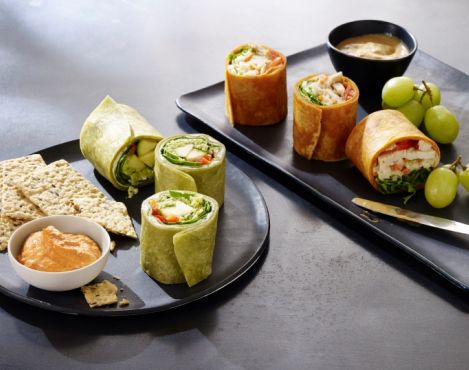 On March 31st, Starbucks is introducing two new bistro boxes into the food lineup: The Thai Chicken Wrap bistro box and the Edamame Hummus bistro box. Both of these bistro boxes went through a test run in San Diego, California as well as the SODO 8 Starbucks in Seattle. (The SODO 8 Starbucks is NOT open to the general public.)
I've tried them on several occasions. I first tried the Thai Chicken Wrap one when on vacation in California, and then later had both of them a few times when visiting the Starbucks headquarters. I love these. They're a huge improvement over the old bistro boxes. The Thai Chicken one is my favorite of the two. The peanut sauce is pretty mild, yet still full of flavor. For both of the bistro boxes, the side portion of dipping sauce (the hummus or the peanut sauce) was pretty generous. I'm not totally a fan of the crackers in the Edamame Hummus box, but that's just me.
From what I know, with the introduction of two new bistro boxes, Starbucks will be discontinuing the old chicken and hummus bistro box.
The new bistro boxes are coming to all fresh-market Starbucks (meaning that some more remote location stores will be unlikely to see these). Both company-operated and licensed Starbucks locations are getting these new two bistro boxes.
Both are under 500 calories. The Thai Chicken Wrap bistro box is 430 calories and the Edamame Hummus bistro box is 490. Hello new quick lunch during the work week! 🙂
Here's the 411:
New Edamame Hummus Wrap –  a crunchy, fresh spinach, zucchini, and bell peppers layered in a creamy herb spread. The wrap is cut into pinwheels so it is portable and easy to eat while on-the-go. The Edamame Hummus Wrap is paired with a creamy roasted tomato sauce and sesame flax crackers.
New Thai-Style Peanut Chicken Wrap – a globally-inspired wrap with layers of grilled chicken, veggies, ginger cream cheese and chile lime spread with a medley of Thai-inspired flavors in every bite.
Related posts