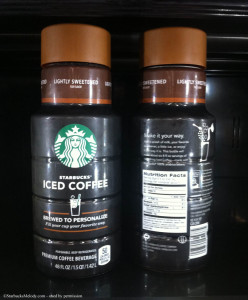 This is a guest blog post by Chicago reader, Neil Harris. He reviewed the new grocery-store-only beverage, "Lightly Sweetened Starbucks Iced Coffee". It's so new, it hasn't shown up yet on the Starbucks website. Here's his review. Enjoy!
New brewed Starbucks Iced Coffee
Last night I was at a Walmart just outside of Chicago (in Niles, for the Chicago readers) and stumbled upon a new Starbucks product… a refrigerated 48 oz bottle of brewed Starbucks Iced Coffee. I admit, I had to blink twice when I saw it, only because I follow Melody (and Starbucks) on Twitter didn't remember reading about this and the product isn't even on the corporate website (as of 7/2/14).
It's lightly sweetened and only has 50 calories per 8 oz serving. The bottle will give you 6 robust 8 oz cups of iced coffee. The price was just under $6.00 which costs you around $1/per cup. That's not such a bad deal if you are not near a Starbucks and need some Iced Coffee for a day (or two). Were you to go to a Starbucks you could get a Trenta (31 oz) of Iced Coffee for $3.45. The downside to the Trenta is that you end up with less that those 31 oz once you leave room for milk and since it doesn't come with a screw-top lid you can't lay it sideways in your fridge.
I bought it and thought it tasted pretty good. It was strong and not bitter at all. While it was lightly sweetened, I had to throw in a few packets of Splenda to get the taste to my liking. Even out of the bottle I thought it tasted way better than the single glass Starbucks Iced Coffee with cream. Would I buy it regularly, probably not. However, for me, there's a side benefit to buying this bottle. Now I have a really great Starbucks branded plastic container to hold my French Press brewed coffee that I refrigerate for my own homemade iced coffee. All in all, if you don't like using a VIA packet to make iced coffee and need a few cups to get your fix then check it out.
More reader submitted photos: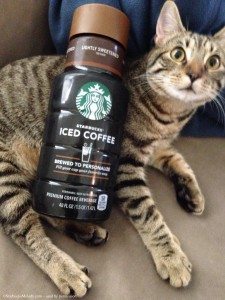 I'm pretty sure that kitty-Alton has been counseled about the dangers of that much caffeine intake in one sitting. But that expression clearly says, "I'm guilty as a charged!" Oh Alton, you Starbucks addict you!
(Really, the photo of Alton and bottle of iced coffee was for scale – to give you an idea about the size of the bottle).
Have you tried the new Starbucks bottled iced coffee?
Related posts